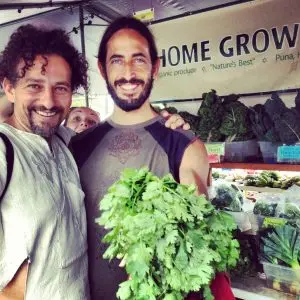 Click below to listen to the "Color Cure" interview now!
"David Wolfe cracked the 'color code' for foods. What natural compounds are locked and hidden inside your food's color pigment?" What color foods are good for which organs? Listen to the Podcast Rebroadcast below to find out.
"This interview makes me want to go straight to the farmer's market or health food store, observe the colors of food, and eat what I feel drawn to…"- Sky Kubby, Host, Medicinal Foods Radio.
Medicinal Foods Radio Rebroadcast: David Avocado Wolfe, The Color Cure
Listen as David "Avocado" Wolfe breaks it down:
What color foods are good for which organs?

What is the most powerful combination of colors for Longevity?

How the actual colors ARE the medicine!

Get clarity on the benefits of Carotenoids, Catechins, Epicatechins, Flavinoids, Flavinols, Betalains, Anthocyanins and more!

Which foods contain "Starlight" energy.

How PH effects Red and Purple foods.

The most common and the most "rare" foods.

Every color has an associated "Shape".

How you can absorb 40-60% more nutrients out of your veggies.
"Today's guest is wildly passionate about sharing ancient secrets and cutting edge information about health and longevity.  Here to drop the science and give us the full download of what's really going on in this exciting world of colors and food is none other than David Wolfe, himself. 
David brings over 16 years of experience as an extraordinary researcher, author, speaker and raw food and health expert. The information David shares about the healing properties of medicinal plants touches people globally. 
Many seek his pearls of wisdom- from moms to celebrities.  He is also the co-founder of TheBestDayEver.com and President of The Fruit Tree Planting Foundation with a righteous goal of planting 18 billion fruit trees, David is a man who walks his walk and speaks for the trees.  He's also an amazing chocolatier and longtime friend…".