Easy Ayurvedic Cuisine: Preparing Kitchari
Join us as we prepare a special recipe to unlock the medicinal power of these healing herbs and spices- increasing your digestive Agni, or fire.
With Sambazon Founder, Skanda and the recipe he learned from his teacher, Prakash at his Ayurvedic Healing center and restaurant, Annapurna, in Santa Fe, New Mexico.
Listen to the Podcast Rebroadcast below and learn direct from the source how simple and fun this delicious warming meal can be.
Podcast Rebroadcast: Preparing Kitchari
This "one pot wonder" is easily digestible and balancing for all three primary Doshas, Vata, Pitta and Kapha.
Let's get started.
You will need the following: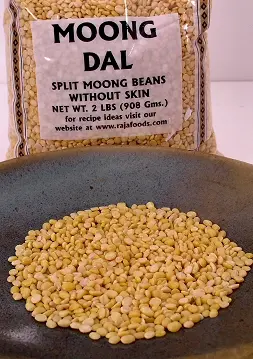 Ingredients
1 cup of split and skinned mung beans which is referred to as "mung dal" at your local Indian grocery store or online (can also use whole mung beans but they take longer to cook and may be harder to digest).
1 cup of basmati rice (brown rice is good too but also takes longer to cook)
8 cups of water (you won't need the full 8 cups if you're not adding veggies while cooking)
2-4 tablespoons of ghee (more if you are in a dry, cold climate or experiencing a lot of dryness) *Rice bran oil is a good alternative if you are vegan as it has a very high smoke point like ghee. Avoid letting your ghee/oil smoke while cooking!
1 teaspoon of black mustard seeds (you can leave these out if you're experiencing weak digestion)
1 teaspoon of fennel seed
1 teaspoon of cumin seeds
1 teaspoon of kalonji seeds (also referred to as nigella)
1/2 – 1 teaspoon of ajowan seeds (also referred to as carom seed)
1/4 – 1/2 teaspoon of asafetida powder (also referred to as hing)
1 teaspoon of turmeric powder
1-2 tablespoons coriander powder
1-2 tablespoons of dried curry leaves (fresh curry leaves are even better… just mince them if they're fresh)
1 tablespoon of grated ginger root
1 tablespoon grated turmeric root (if you don't have fresh, the powdered turmeric root will suffice. If you have both, use both!)
1 cup of chopped cilantro
1/2 – 1 teaspoon of salt
Preparation:
Wash the mung beans and rice.  If you have time, soak the mung beans for a few hours in a separate bowl before cooking to reduce gas-producing quality.  If you don't have time, just rinse and strain the mung beans many times working them under water with your fingers so you wash their entire surface area.  Rinse until you don't see anymore cloudiness or foam in the water… takes me about 5 rinse and drain cycles. *Use a strainer so you don't loose any mung beans down the drain.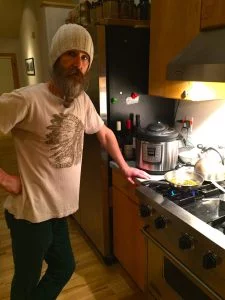 Add the rice and mung beans to 8 cups of boiling water and reduce heat to medium-low.  Cover with the lid slightly cracked to let gases escape while cooking but make sure you are still achieving a rolling boil (adjust the intensity of your flame to achieve this balance).  Be careful not to accidently let the pot foam over (messy – add more water if you do). *You can remove any foam that accumulates in the first 5 or so minutes of the boiling process as this too will help mitigate the chances of one experiencing gas from kitchari.  Cook like this for at least 45minutes or until the mung beans are starting to break apart.

Tempering Your Spices:

 Set aside 3 small bowls as you are going to separate your seeds, powders and grated roots (fresh, minced curry leaves will go in the bowl with fresh grated ginger and turmeric.  Dry curry leaves will be broken up with fingers in your palm and added to the bowl of powders).  Put the indicated amount of seeds in one bowl (*except your mustard seeds which take the longest and will be added to the skillet first).  Add the indicated amount of your grated, fresh ginger and turmeric roots in the 2nd bowl and the indicated amount of powders in the 3rd bowl .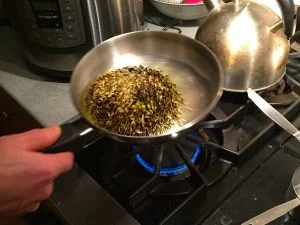 Add ghee to a saucepan or skillet and bring your flame to medium heat.  Add the mustard seeds and cook them in the melted ghee until you hear the first indications that the seeds are popping (1-3 minutes)…  Immediately add the contents of your bowl of seeds and reduce heat to medium low or low… get them all coated in the liquified ghee and cook them for about 30seconds – 1 minute using a spoon to make sure they don't stick to the bottom of the skillet and burn (look for the fennel and cumin seeds to change color a bit)… then add the bowl of fresh grated ginger and turmeric… work those around for 15-3o seconds with the spoon to ensure they don't stick to the bottom of the pan and burn too and then add the contents of the bowl of powdered herbs and mix them all together with the spoon so they are all well coated in the ghee… Immediately scrape the contents into your pot of cooked mung beans and rice and stir.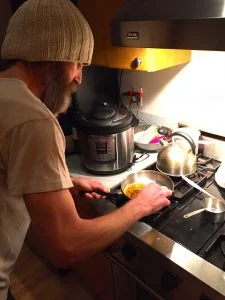 You can add a spoonful of rice and mung beans back into the pan you tempered the spices in to help get the last bit of yumminess out of your tempered spice pan and add that back to your pot of beans and rice (kinda cleans the last bit of tempered spices out of your pan).  Now add the chopped cilantro and salt to your pot, stir it all together and you're done!  Serve in a bowl and top with a little more ghee and finishing salt to taste.  Kitchari can have the consistency of risotto or thick soup.  It's best to have more moisture in your kitchari if you are in a very dry climate.
Optional: You can add vegetables during the cooking process by adding denser, longer-cooking veggies (such as carrots or sweet potatoes) halfway through the cooking process.  Add faster cooking veggies (like zucchini or leafy greens) near the end.  You may have to use more or less water depending on how many veggies you add.