Raw chocolate cheesecake just got a little more flavor added to the delicious dessert,  with the help of this week's featured recipe,  adding raw almonds and cacao nibs. So soak up the sun and cool off your appetite this summer as you enjoy this refreshing and healthy raw dessert.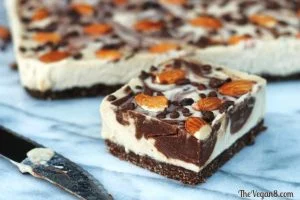 This raw chocolate swirl cheesecake is courtesy of One Green Planet,  providing you a raw healthy dessert to enjoy with family and friends. 
Recipe Ingredients:
Chocolate crust:
Filling:
2 cups raw whole cashews
1/4 cup sliced almonds or 2 tablespoons of raw almond butter
1/4 cup lemon juice
1/2 cup raw agave nectar
1 tablespoon vanilla extract
1/4 teaspoon sea salt
1 cup water
1/2 cup raw chocolate (from our Raw Chocolate Recipe) mixed with 3 tablespoons water.
Recipe Directions:
Chocolate crust:
Add almonds and cacao to a food processor and pulse into fine crumbs. Add the agave and pulse again until mixture clumps together and holds it's shape when pressed together between your fingers. Take an 8×8 square pan, spray with nonstick spray and line with plastic wrap hanging over the sides for easy removal later. The spray helps the plastic wrap from moving. Press the mixture evenly around with your fingers, not forgetting about the corners. You can add a little cacao powder to your fingers to help it not stick.
Filling:
If you do not have a high powered blender such as a Vitamix, simply soak the cashews for 5 hours in a bowl covered with room temperature water. Drain, rinse and then proceed with the recipe.
Add all filling ingredients to a high powered blender and blend until smooth and creamy, a couple of minutes.
Pour over the prepared crust.
Mix the chocolate almond butter with 3 tablespoons water until smooth. Drop spoonfuls all over the cheesecake and pull with a knife to make swirls. Do not overdo it or you will lose the swirl effect.
If desired, add almonds, cocoa nibs. Note: cocoa nibs aren't very sweet, so taste them before placing them as a topping, to make sure you want to use them. Place in the freezer for several hours or overnight until firm. Let sit at room temperature about 10-15 minutes before trying to remove the cheesecake with the plastic wrap. You should be able to pull it out with the plastic wrap after it has sat out a bit. Then slice and serve. Cover with foil and return to the freezer.
This recipe was originally featured on the The Vegan 8 blog, in October 2013. All recipes were created to be vegan, gluten-free and oil-free, using 8 ingredients or less, not necessarily including salt & water.