These raw chocolate raspberry brownies offer a tasty treat for an afternoon snack or dinner party dessert. The raspberry and chocolate combined provide a sweet and rich flavor, wanting you to go back for a second, maybe even a third brownie.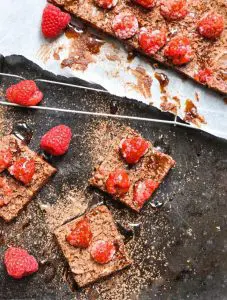 Recipe Ingredients:
Raw Chocolate Brownie Ingredients:
1/2 C. walnut pieces
1/4 C. pecan nuts
1/2 C. pitted dates
4 Tbsp Medicinal Foods Cacao Elixir
4 Tbsp date syrup (or agave nectar)
4 Tbsp raw coconut oil
1/2 C. fresh raspberries
Raw Chocolate Drizzle Ingredients:
3/4 cup raw coconut oil
3/4 cup maple syrup (or agave nectar)
1 cup Cacao Elixir powder
1/4 teaspoon pure vanilla extract
Recipe Directions:
Add the walnuts and pecans to a blender or food processor until finely ground. Add the Medicinal Foods Cacao Elixir, dates, date syrup and raw coconut oil and blend until a you get a sticky brownie mixture. If it's too thick, add two tablespoons of water. Taste for sweetness and add more cacao powder and more date syrup for a sweeter, more chocolate taste.
Next, add 2/3 C. of raspberries and mix in by hand, then transfer to a baking paper-lined baking tray and spread evenly. Top with raspberries and drizzle raw chocolate and leave in the freezer for 1 hour. Take out of the freezer at least fifteen minutes before serving, and drizzle with date syrup or agave nectar.
After you try this delicious raw chocolate recipe please share your experience with photos on our Twitter, Instagram or Facebook page!
This raw chocolate raspberry brownie recipe is courtesy of Feeding The Cat,  providing you a raw healthy dessert to enjoy with family and friends. A website created by Cat Byers in April 2012 as a platform for developing recipes and exploring food photography and styling.