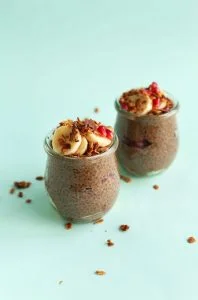 Try this naturally sweetened raw chocolate chia seed pudding that is so thick and creamy you will crave it everyday. Only six ingredients added to load your body with nutrients that will taste great for breakfast, as a snack or even serve as a dessert!
Recipe Ingredients:
1 1/2 cups Almond Breeze Almond Milk Original Unsweetened
1/3 cups Organic Chia Seeds
2-5 Tbsp raw agave nectar if not blending (can sub 5-9 dates, pitted if blending)
1/2 tsp ground cinnamon (optional)
1/4 tsp sea salt
Recipe Directions:
Add all ingredients except sweetener to a mixing bowl and whisk vigorously to combine. If not blending, then sweeten to taste with agave nectar at this time. If blending, you can sweeten later with agave nectar or dates.
Let rest covered in the fridge overnight or at least 3-5 hours (or until it's achieved a pudding-like consistency).
If blending, add to a blender and blend until completely smooth and creamy, scraping down sides as needed. Sweeten to taste.
Leftovers keep covered in the fridge for 2-3 days, though best when fresh.
Serve chilled with desired toppings, such as fruit or granola.
Be sure to share your raw chocolate chia seed pudding experience with us on our Twitter, Instagram or Facebook page!
Recipe and image courtesy of Minimalist Baker.