Organic strawberry chia seed spread is an excellent choice for a mildly sweet topping to compliment your crackers or toast. So the next time you invite friends over for hors d'oeuvres or need a quick and healthy breakfast for your children, consider this organic spread as your "go to" option.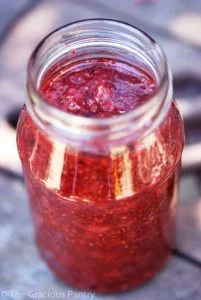 Recipe Ingredients:
2 cups organic strawberries – cleaned and chopped
1 cup water
1/4 cup raw honey
Recipe Directions:
Place all ingredients into a metal pot and bring to a boil.
Reduce heat slightly so the contents of the pot don't splatter all over your stove, but still bubbles in the pot.
Stir constantly! The chia seeds burn on the bottom of the pot very easily.
Stir and boil until the mixture has reduced by half and has thickened. Again, it will not be as thick as jam, but it sill definitely thicken.
Pour into a clean glass jar and allow to cool for 1 hour. Place in the fridge overnight to continue cooling.
Did you enjoy this recipe? Be sure to share your chia seed experience with us on our Twitter, Instagram or Facebook page!
Chef's Note: This is not a sweet spread, but rather mildly sweet. 
This delicious recipe and photo are courtesy of The Gracious Pantry.