Naturally energize your body with a delicious and healthy chia seed protein bar! In this recipe you will indulge in a chewy granola-like texture while tasting just a hint of sweetness to cure your morning or afternoon cravings. Chia seeds have many health benefits!
So jumpstart your day or uplift your afternoons with this protein bar. This recipe includes 11 all-natural ingredients and only 15-minutes of baking time, setting up your week with a few quick breakfast options or on-the-go snacks to bake.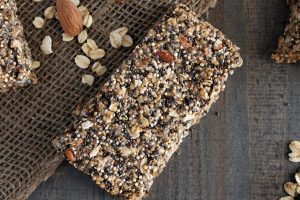 Recipe Ingredients:
2 Tbsp. organic raw honey
¼ cup organic brown rice syrup
½ cup raw almond butter
½ cup dry quinoa (any color quinoa will work)
2 Tbsp. ground flax seeds
¼ tsp. pink Himalayan salt
1 tsp. cinnamon
1 tsp. cardamom
1 cup rolled oats
½ cup raw almonds; coarsely chopped
Recipe Directions:
Preheat oven to 350F.
In a large mixing bowl, combine quinoa,

chia seeds

, flax seeds, rolled oats, cinnamon, salt, cardamom and chopped raw almonds. Stir to combine.
In a small pot combine raw almond butter, organic brown rice syrup and raw honey. Stir to mix, then heat for 1 minute to soften.
Pour the wet ingredients over the dry ingredients and stir with a spatula to thoroughly mix. Wet ingredients may begin to firm up, in which case you will need to use clean hands to knead the mixture together.
When finished, transfer your mixture to a parchment lined baking dish (similar to 8 x 8 glass Pyrex dish), and pat down mixture with a spatula to make a single, even layer.
Bake on middle rack of oven for 15 minutes.
When finished, remove from oven and let cool for 10 minutes.
After ten minutes, remove bars from the pan by lifting up the sides of the parchment paper. Place bars on a wire rack to finish cooling.
Cut finished bars with a sharp, non-serrated knife or pizza cutter 4 times horizontally and 4 times vertically to create 8 bars total.
Wrap cooled bars in saran wrap and store in refrigerator until ready to eat.
Did you enjoy this recipe? Be sure to share your chia seed experience with us on our Twitter, Instagram or Facebook page!
Original recipe and photo courtesy of Danielle Krueger at The Lean Clean Eating Machine.