Eating healthy can be a challenge, especially when you're purchasing Organic items for you and your family every week. Places like Whole Foods can sure put a dent in your wallet, but that shouldn't steer your shopping cart away from making healthy meal choices. Instead use the following tips to help you purchase organic items and keep your family on a "healthy budget" every week.
Learn how to read an "organic" label and understand which products are better to choose when it comes down to the last penny.
Surprisingly, not every product labeled "Organic" will be 100 percent organic. In fact some products are only 95 percent organic, and that is completely legal if the label reads "organic" on their package. Unfortunately this lures consumers into products that are not 100 percent organic, but still convincing buyers the expensive purchase is worth the healthy cost.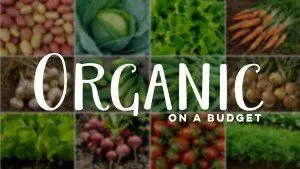 Other false-leading labels include the phrase, "made with organic ingredients",   which can be products with only 70 percent organic ingredients. So don't fall for these products that are making you pay for their overpriced gimmicks. Instead, learn how to read the label and understand which products will be 100 percent Organic when it comes down to the decision making on your grocery list.
Understand the Labels  
One way to spot these products is to look for a USDA Organic seal from the U.S. Department of Agriculture (USDA). When you see this label on a product, you know that it meets the following standards:
Plant Foods. Plants were grown without synthetic fertilizers, prohibited pesticides, or sewage sludge. These products will not contain genetically modified organisms (GMOs) or been irradiated.
Animal Products. These products would have had access to the outdoors, were not given antibiotics or growth hormones and were fed 100% organic.
Processed Foods. At least 95% of the material in the food comes from organic plant and animal products.
Check out another great resource from Greener Choices, a site run by Consumer Reports, identifies 150 different claims that can appear on food labels.
Identify food labels
Cage Free. The Humane Society explains that hens are kept in barns where they have space to walk, nest, and stretch their wings. However, they don't necessarily have any access to the outdoors, and beak clipping and forced molting through starvation are allowed.

Certified Humane. Animal products with this label come from farms with strict standards for animal welfare. According to reports, animals kept indoors must have a comfortable space with room to move around, and they must be slaughtered as painlessly as possible.

Certified Naturally Grown. For the most part, products with this label meet the same standards as USDA Organic products. The main difference is that the farms that produce them have not been certified by the USDA and are not under its supervision. This program is less demanding about record keeping than the USDA, but it has stricter standards for animal welfare.

Free Range. This sounds like it should mean that animals are allowed to roam freely outdoors, but in fact, it's not nearly that firm. For poultry products, this claim means only that birds are allowed access to the outdoors for as little as five minutes a day. For eggs and other meats, it has no legal meaning at all.

Fair Trade. This label generally appears on products grown in developing countries. It means that the farmers who grew the crops and the workers who picked them earned a fair wage and had decent working conditions. The two main organizations that enforce these standards are Fair Trade USA and Fairtrade International.

Natural. This claim, which may also appear as "all natural" or "100% natural, " implies that the product contains no artificial ingredients. However, there is no legal definition of the term, and different companies define it in different ways. The only time this term has any formal meaning is when it appears on meat and poultry products. In that case, it means that the meat is only minimally processed and doesn't contain any artificial flavors, preservatives, or other ingredients – though it may still contain "natural" additives, such as salt water.
Tips to Cut Organic Costs
 Use Coupons:
-Check online for companies or local grocery store coupons and special promotions.
-"Like" or join an Organic food store social media page.
-Frequently visit organic coupon sites such as Mambo Sprouts,  Organic's Worth It, Natural Thrifty and All Natural Savings for deals of the day! For Hawaii residents check out Down to Earth Organics!
-Check Whole Foods coupons here, for weekly deals on various products throughout their store.
Buy in Bulk:
-Bring measuring cups with you to the grocery store so you will only buy what you need from the bulk containers.
If you're still having trouble finding affordable organic foods, then prioritize your grocery list. Put the most essential organic ingredients and products at the top of list and set your budget not to exceed that limit. Then create your menu for the week based off the necessary Organic foods you purchased.
Sources: Food Babe & Money Crashers 
Photo Credit: Anytime Fitness