Trick or Treater's will soon be knocking at your door looking to fill their buckets with the tastiest Halloween candy. Unfortunately this candy is loaded with sugar and other unnatural ingredients causing several tummy aches and unhealthy decisions, but as October 31st nears you still have time to reconsider your options of candy to hand out this year.
Instead of sticking with the traditional Halloween candy, filled with sugar and other non-healthy ingredients, you might want to consider making your own candy like these raw chocolate Halloween spider treats, which still offer great flavor, but with nutritional value.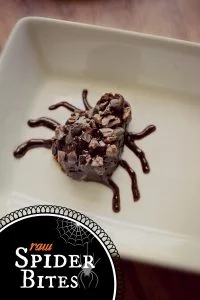 Recipe Ingredients:
Recipe Directions:
Follow recipe for Raw Chocolate Brownies.
Shape spiders by forming into 2 balls (one ball the size of a quarter; the other 1/3 its size)
"Glue" head of spider onto the body with a dab of melted raw chocolate.
Coat with raw chocolate until completely covered.
Allow to chill and set in fridge.
Place on plate and create spider legs with raw chocolate (placed in a ziploc bag with a tiny hole cut out in the corner).
Did you enjoy this recipe? Be sure to share your raw chocolate experience with us on our Twitter, Instagram or Facebook page!
Original recipe and photo courtesy of Forks and Beans.