There are several health benefits of chia seeds,  especially when you add other superfoods to that meal which we have done in this chia seed superfood bowl. Enjoy this healthy oat-based meal, providing a fruity flavor in each bit! Eating chia is a great way to regularly cleanse your colon!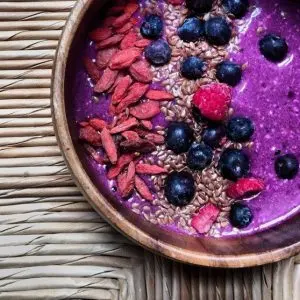 Recipe Ingredients to Blend:
1/3 cup raw oats
3 tbs. Medicinal Foods chia seeds
1 cup coconut water (filtered water will work, too)
1 banana (fresh or frozen)
1 serving of a fruit smoothie pack (use Sambazon or Organic Pitaya Dragonfruit)
1/2 cup frozen raspberries and blueberries
1 kiwi
1 tbs. psyllium husk (optional, helps digestion)
1 tsp. spirulina
Toppings: Handful frozen blueberries and raspberries, handful goji berries, 1 tsp. flax seeds.

Recipe Directions:
Soak oats and chia seeds in coconut water (or regular water) overnight.
In the morning, blend with all other ingredients.
Top with frozen berries, goji berries and flax seeds.
*Soaking chia and oats adds nutritional value to the bowl, however you can still make it without pre-soaking!
Share your superfood experience with us on our Twitter, Instagram or Facebook page!
Recipe and photo credits courtesy of Breakfast Criminals.