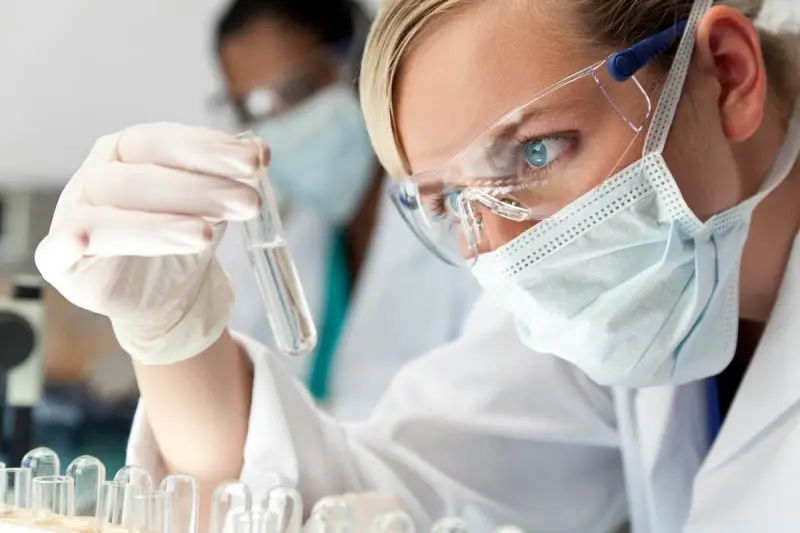 Does this new treatment, which is actually 70 years old, hold the power to stop this pandemic. It certainly appears so.
"An international poll of thousands of doctors rated the Trump-touted anti-malaria drug Hydrochloroquine the best treatment for the novel coronavirus.
Of the 6,227 physicians surveyed in 30 countries, 37 percent rated Hydrochloroquine the "most effective therapy" for combating the potentially deadly illness, according to the results released Thursday."
—NEW YORK POST
While the rest of the healthcare community catches up it looks like CNN jumped the gun on Trump and Hydroxychloroquine's effectiveness.
"Trump peddles unsubstantiated hope in dark times," read a March 20 "analysis" by CNN's Stephen Collinson. Saying Trump was "adopting the audacity of false hope" and embracing "premature optimism," Collinson charged that "there's no doubt he overhyped the immediate prospects for the drug" because the FDA had not provided an explicit timeline on approving the drug to treat coronavirus.
Chis Martensen PhD in Pathology goes on to explain how the effective use of Hydroxychloroquine should be Common Sense
Many experts have called out the Lancet study which tries to show Hydroxychloroquine to be innefective and which has given the WHO license to cease Hydroxychloroquine trials in favor of one of the more expensive vaccines also being tested.
Actually, as we know the FDA actually did approve HCQ for off-label use and it's looking like it will approve it's direct use soon.
Doctors can now prescribe Hydrochloroquine (Hydroxychloroquine) for off label use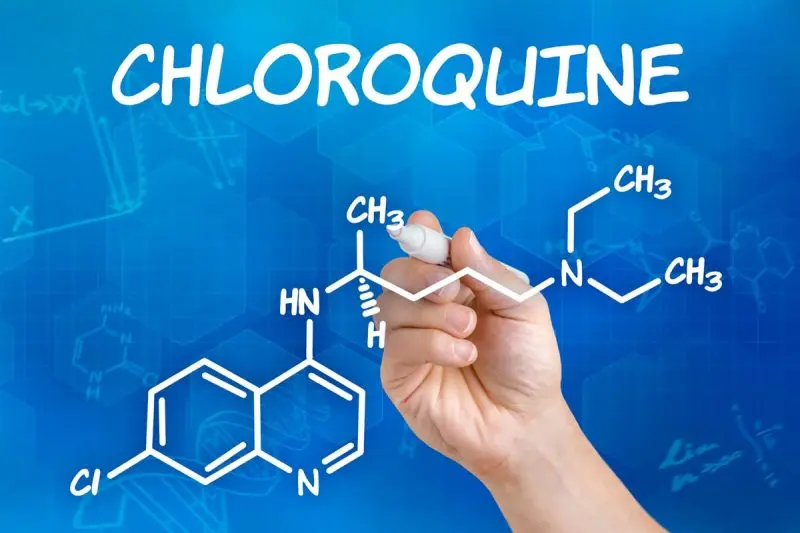 What is Chloroquine?
Chloroquine, which is sometimes called chloroquine phosphate, is a drug used to prevent or treat malaria; it can normally be obtained via medical prescription.
Choloquine and all quinolines are synthetic derivitives of the naturally occurring Quinine plant compound discovered in Cinchona officinalis bark
Chloroquine was, until recently, the most widely used anti-malarial. It was the original prototype from which most methods of treatment are derived. It is also the least expensive, best tested and safest of all available drugs. Mediline Gov
What it is Not:
Hydroxychloroquine is not Chloroquine Phosphate, the aquarium parasite medication which was wrongfully administered by a woman to her an her husband. Upon further digging it turns out the woman, by her own omission had just had a suffered a nervous breakdown and was "not of sane mind" when she gave her husband this poisonous treatment.
Anyone taking HCQ should consult their doctor. In fact they will need to get their doctor write them a prescription for it, most likely.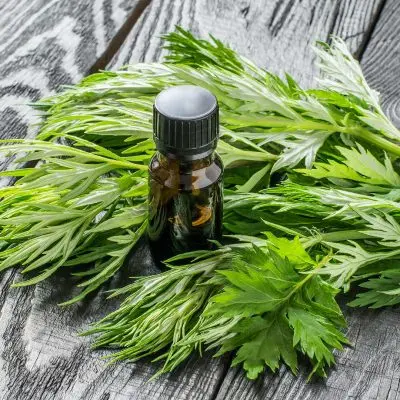 Chloroquine should not be confused with other malaria drugs such as those that are naturally derived from Wormwood (Artemisia annua), which is also used in the treatment of malaria, especially when a patient is not responsive to Chloroquine or when Chloroquine may not be readily available in semi-industrial nations, or nations where cultures primarily use natural herbal remedies.
Derived from the Chinese herb qinghao, or sweet wormwood (Artemisia annua), the extracts have indeed saved millions of patients in south-east Asia who would otherwise have suffered or died when conventional drugs failed. New Scientist
There are at least 14 different types of of malaria drugs used, Wormwood/Mugwort are in the Artemisinin family of derivatives: Wiki Source
Quinine and related agents
Chloroquine
Amodiaquine
Pyrimethamine
Proguanil
Sulfonamides
Mefloquine
Atovaquone
Primaquine
Artemisinin and derivatives
Halofantrine
Lumefantrine
Doxycycline
Clindamycin
Hydrochloroquine vs Chloroquine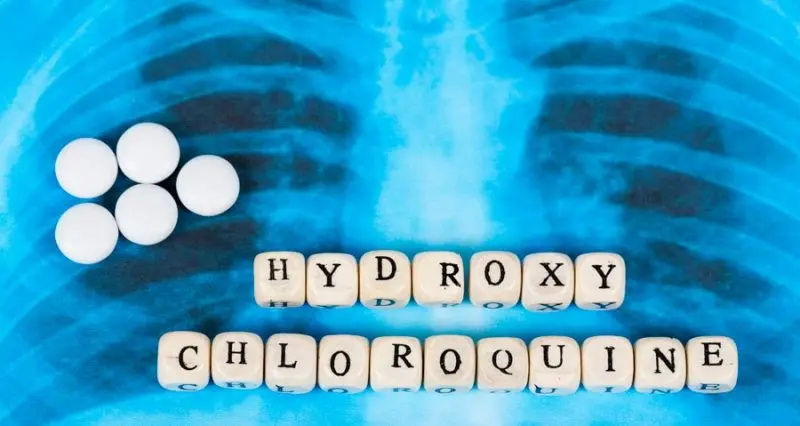 Many people believe they are the same, so let's distinguish the difference between Chloroquine and Hydrochloroquine. Hydrochloroquine analog of chloroquine, which is a compound having a similar structure but differs in respect to a certain component, this slight difference makes Hydrochloroquine safer.
The discovery opens a new front in the fight against novel disease, and even long existent parasites which have become resistant in most parts of the world to the most common antimalarial drug, chloroquine.
Hydrochloroquine or HCQ, is most often sold by the name Plaquenil among other brand names. It is taken by mouth.
HCQ used in tandem with Zinc sulfate is undergoing study as an experimental treatment for coronavirus disease 2019 (COVID-19).
Why all the Politicalization around Hydroychloroquine?
Del Bigree weighs-in:
It's not about Rebublicans or Democrats, who cares, it's about Health Care, it's about caring for people as soon as possible and as effective as possible. Why should we have to wait for an expensive vax? Who would that benefit? Do you have "the phobia"? Perhaps Del has the cure.
How does Hydrochloroquine treat disease?
Scientist are not completely sure, but quinolines appear to work by raising the pH, the alkalinity within cells and their interactions with pathogens.
Each of the antimalarials tested (chloroquine, quinine, and mefloquine) as well as NH4Cl inhibited parasite growth at concentrations virtually identical to those that increased parasite vesicle pH. [Source: nih.gov pubmed]
And here, another study links this pH elevating action of quinolines to the inhibition of viral replication:
In addition to the well-known functions of chloroquine such as elevations of endosomal pH, the drug appears to interfere with terminal glycosylation of the cellular receptor, angiotensin-converting enzyme 2. This may negatively influence the virus-receptor binding and abrogate the infection, with further ramifications by the elevation of vesicular pH, resulting in the inhibition of infection and spread of SARS CoV at clinically admissible concentrations. [Source: biomedcentral.com]
Promising Findings in Italy
As an aside, The Italian Society for Rheumatology studied 65,000 patients who were already taking hydroxychloroquine in Italy because of Rheumatoid Arthritis or Lupus; they had a 90% lower infection rate and no ICU, no deaths.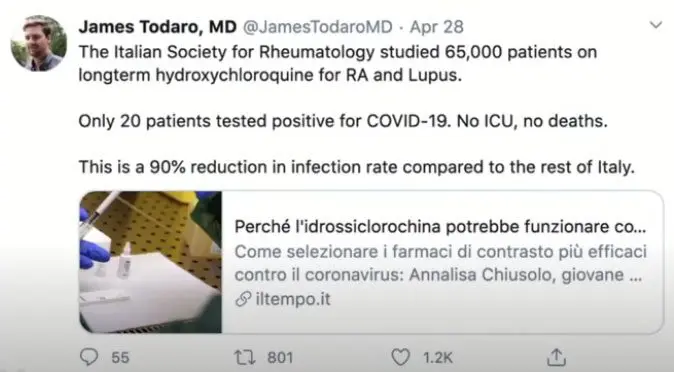 Success in South Korea
Korean physicians who have treated patients infected with coronavirus (COVID-19) have established ground-breaking treatment guidelines to help combat this new disease.
These are the key guidelines: healthy patients who have not tested positive with the disease do not need treatment with the antiviral drug, and, once physicians decide on the use of antiviral treatment, they should do so as quickly as possible with 500mg oral doses of chloroquine per day, or prescribe 400mg of hydroxychloroquine.
Dr. Vladmir Zelenko clinical trials
https://www.youtube.com/watch?v=1TJdjhd_XG8
Important part is that we have a solution that's working but isn't a vaccine.
Then theres the Jewish doctor Doctor who helped a whole Hassidic Jewish community deal with COVID-19 and effectively treated 699 patients with 0 DEATHS and 0 INTUBATIONS using Hydroxychloroquine and Zinc.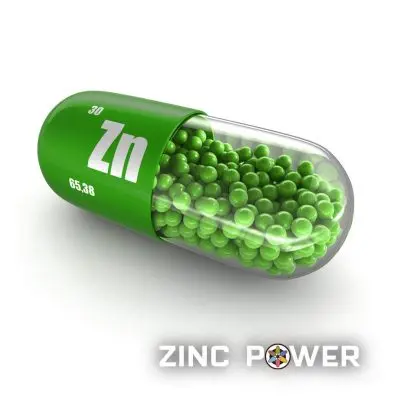 Dr. Zenloko's Successful Treatment of Covid – Treated 350 patients, 0 deaths, 0 hospitalizations, 0 intubations breathing restored in 3-4 hours1 – Hydroxychloroquine 200 mg 1 pill 2x a day/5 days2 – Azithromycin 500 mg 1 pill/day/5 days3 – Zinc sulfate 220 mg 1 pill/day/5 days
"The Hydroxy treatment appears to be working so far!" In an exclusive interview, Dr. Vladmir Zelenko shares with us a preliminary study outlining that out of his 699 patients treated, he has had ZERO deaths, ZERO intubations, and four hospitalizations.
https://www.thegatewaypundit.com/2020/03/israeli-pharmaceutical-company-donates-6-million-doses-of-chloroquine-to-us-to-treat-coronavirus/
Hydrochloroquine has been used for 70 years with little side effects and affordably priced.
Zithromycin, zpak used all the time. Both already approved! Urgent to save lives.
China did a study a month before Didier Raoult's study with 100 people and recommended it be a part of treatment
Boston Medical doing 1,000 clinical trial
Michigan doing 1,500 person trial
NY State to Begin Testing Malaria Drug in COVID-19 Battle
https://www.voanews.com/science-health/coronavirus-outbreak/ny-state-begin-testing-malaria-drug-covid-19-battle
Rio Giardinieri, 52, Hospitalized at Memorial Regional Hospital in South Florida diagnosed with the coronavirus and put on oxygen in the ICU, was saved from certain death by taking anti-malaria drug
https://nypost.com/2020/03/22/florida-man-with-coronavirus-says-drug-touted-by-trump-saved-his-life/
Rumor is a massive #hydrochloroquine rollout is coming to New York. If Trump beats this there, it's basically over as a threat to the USA.
More research of doctors using off-label Chloroquine, Zinc and Vit C. along with an antibiotic for Lung Infection to treat COVID-19 successfully. 50 clinics in Australia are now using Chloroquine to treat COVID-19
https://twitter.com/BioBreakout/status/1241191419651526657?s=20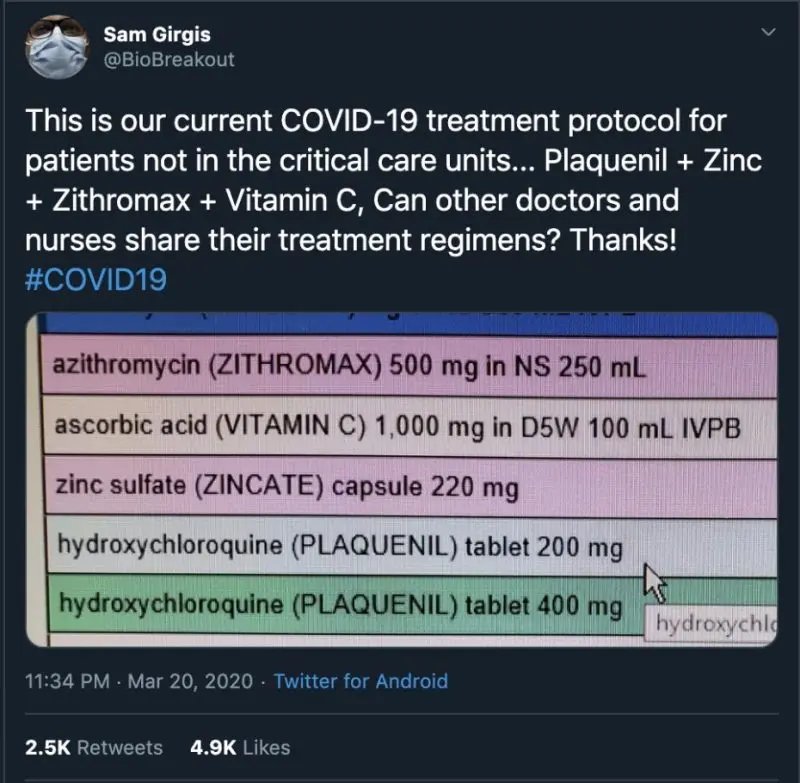 More Good News
More good news on COVID-19 treatment with Hydroxychloroquine from the amazing Dr. Ban G. Truong, DO, PhD, FACEP, ABAARM. Video link below on his treatment slides and why he suggests more outpatient than inpatient treatment ventilators.
Dedicated to upholding the Hippocratic oath of doing no harm, Dr. Ban offers detailed instructions on how to best treat COVID-19 at home and warns against the potential misuse of ventilators.
Dr. Ban uses Vit Z, C, D and Copper treatment in combination with HCL and warns about potential Diarrhea, in that case may have to drop to 200mg.
Also stresses the importance of following up and extending treatment up to 10 days. Gives great treatment procedure advice to other doctors.
https://www.youtube.com/watch?time_continue=2&v=Ooh1BYP5GHE&feature=emb_logo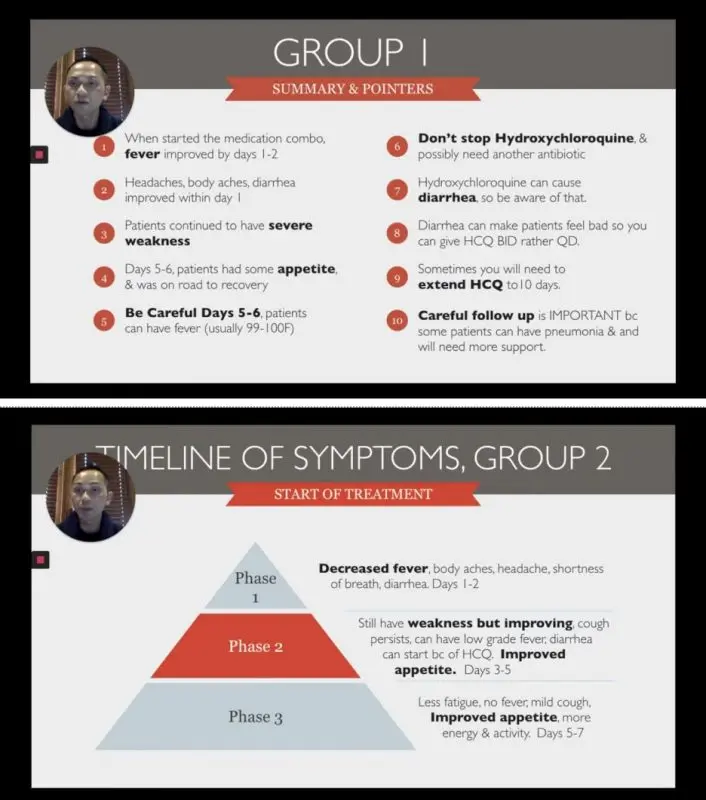 Dr. Ban G. Truong, DO, PhD, FACEP, ABAARM
Dr. Ban is a physician with a PhD in Nutrition, and who is quadruple board certified in Emergency Medicine, Obesity Medicine, Anti-Aging and Regenerative Medicine, and as a Physician Nutrition Specialist.
In addition to having practiced in several large, urban emergency departments throughout the country, he also served as a Life Flight doctor treating patients in the field and supporting them as they are transported between medical facilities.
He owns and operates several brick-and-mortar clinics that range from primary care to urgent care. He also owns and operates a telemedicine clinic.
Dr. Ban serves as the Medical Director for Weightless4Life, a role that he approaches with the thoughtfulness and compassion gained from years regularly seeing patients in the primary, urgent, and emergency settings.
Dr. Ban was also a college professor who taught nutrition and the sciences. As such, he believes in the power of education through the dissemination of quality information.
Another doctor, Dr. Berg weighs-in on Zinc and Hydroxychloroquine
Links to current research:
Previous video on Zinc + Chloroquine by Dr. Berg, featuring Dr. Vladimir Zelenko
Natural & Effective Solutions to help strengthen the Immune System
While other non-pharmaceutical treatments may be effective as well, like FDA approved Nano Silver, we'll have to wait for more tests on its effectiveness on COVID-19.
Interestingly, however Nano Silver has been shown to kill EVERY pathogen ever tested in vitro. Currently there are tests underway.
Also, Vitae Elixxir has showed much promise in greatly minimizing the intensity of the flu so it is worth considering COVID-19 tests done on this as well- since many human trials have already been done on it for other ailments.
One thing is for sure, the use of Hydrochloroquine against the COVID-19 is successful and may end up proving itself as a pandemic stopping force.
Hey, did you know that Cacao contains high amounts of antiviral Zinc?