Full Description
Why do people keep saying that Medicinal Foods is the "Best chocolate bar they've ever tasted?"
Sky Kubby, founder of Medicinal Foods and the creator of Lovers Bars
Orgnaic Chocolate Bar
It's all about the the quality of ingredients, the taste... and the feeling!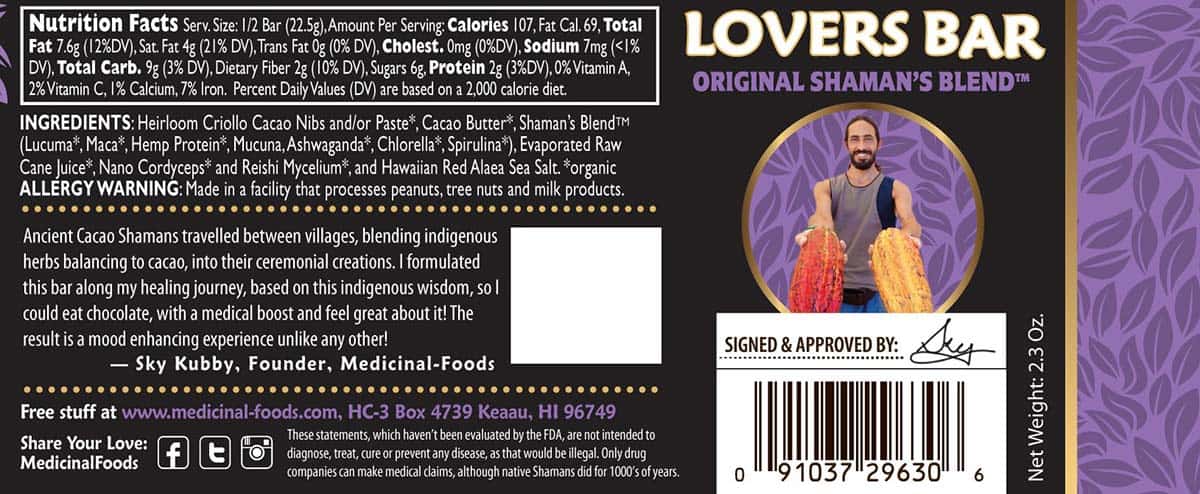 Ingredients List
(click each ingredient to lean more)
Organic Arriba Raw Cacao Powder (Theobroma cacao)

100% pure, certified organic, fair-trade, sustainably harvested, and stone-ground
We use only the highest quality Arriba cacao variety
Our proprietary raw curing process retains the highest nutrient and anti-oxidant properties
More info on Organic Arriba Raw Cacao Powder (Theobroma cacao)

Shaman's Blend™ ( blend of the following superfoods: )

A unique, proprietary superfood blend like no other!
Inspired by the medicinal wisdom of ancient cacao shamans in the South American rain forests
Has mood-enhancing properties

Organic Reishi Mushroom Powder (Ganoderma lucidum)

A potent adaptogenic tonic that can be safely taken daily to help relieve stress. Immune modulator, regulates and fine tunes the immune system
Contains anti-cholesterol "Beta-Glucans", immune-building "Polysacharides" and anti-viral "Sterols"
Increases circulation, may help lower high blood pressure, help relieve hepatitis, bronchitis, insomnia, and asthma
Supports healthy liver function and has anti-inflammatory properties. Can restore the body to its natural state, nourishing all organs.
Full-spectrum powder (includes fruiting body, mycelium, spores, and primordia). Not just simply ground-up mycelium.
Our mushroom powders are hot-water extracted using traditional methods. Grown in our high-tech facilities in Oregon, with the purist, highest quality standards.
More info on Organic Reishi Mushroom Powder (Ganoderma lucidum)

Full Spectrum Cordyceps Mushroom (Cordyceps sinensis)

Enhances performance with increased full-body oxygenation, efficiency and stamina of the circulatory system.
Powerful adaptogen, resulting in more energy, strength, and stamina. Aphrodisiac.
Helps protect the liver and aide recovery from chemotherapy, stabilizes blood pressure.
Full-spectrum powder (includes fruiting body, mycelium, spores, and primordia). Not just simply ground-up mycelium.
Grown with Gluten-Free, Non-GMO. Grown in our high-tech facilities in Oregon, with the purist, highest quality standards.
Our mushroom powder is hot-water extracted using traditional methods. Organic growing substrate is 98% removed by hot-water extraction process.

Vanilla Extract

A perfect touch of classic and delicious vanilla flavor

Himalayan Pink Salt

The famous pink salt with a better flavor than table salt and loads of trace minerals

Allergy Warning: made in a factory that processes peanuts, tree nuts and dairy products.
Cacao is high in Chromium, Magnesium and Zinc - three minerals that 80% of Americans are deficient in.
Raw Chocolate is high in oleic acid, monounsaturated "healthy fats" that are good for the heart and blood.
If you're a chocolate lover, this is the bar for you. It's handmade from the highest quality cacao beans and processed organically.
So enjoy!
Serving Info
Serving size: 1/2 bar ( 22.5 grams )
Servings per container: 2 or 12
Directions / Suggested Use
Open wrapper and proceed to bliss.
There's nothing quite like enjoying a rich and mouth-watering chocolate bar from time to time. It is a food that can instantly raise one's spirits if you're feeling down or if you want to satisfy a craving for something sweet.
Worldwide sales were $125 billion in 2020 and it is a market that steadily grows every year because, let's face it, human beings simply love the stuff.
There are several large international corporations that have dominated this market for decades and know there will always be a demand, especially for flavor variations including nougat, caramel, and all types of varieties with nuts.
Many websites will even claim profound health benefits, the principle one being that they are very rich in antioxidants which fight off foreign substances call free radicals which, if left unchecked, accumulate in our organs and cause disease.
There are thousands and thousands of recipes that have mastering the art of satisfying this seemingly natural human craving.
But the problem has become that most of these products are not pure and 100% organic offerings of this beloved food, and instead come with artificial flavorings and problematic compounds.
So the question is: What is it that people actually craving if the ingredients have been corrupted?
The unfortunate answer is sugar. Most products on the market offer very little of the antioxidant-rich substances we are told that it contains, and instead have a massive amount of the powerfully addictive substance we call refined sugar.
Amazingly enough, if you look at the label on some packages, the number one ingredient in terms of volume is sugar.
So while the market for every conceivable variation reaches new monetary highs year after year it is a market that rides on the back of a toxic and health threatening substance.
If sugar is the actual driver of this market, how can we get back to the root ingredients that actually have health benefits? Is there a way to enjoy this delectable pastime without it becoming a health problem.
The answer is a resounding "Yes", once we understand how these products are produced and from what source materials.
Bar of chocolate
Nearly every product comes from one single tree: Theobroma cacao, also called simply a cacao tree. They thrive in the shaded areas of humid tropical jungles near the equator and particularly in Africa and South America.
4 of the top 5 producer countries are in Africa. The worldwide leader in cultivation is the Ivory Coast which accounts for roughly 37% of the total market, Ghana is second, Indonesia 3rd, and a distant 4th and 5th are Nigeria and Cameroon.
In ancient Mesoamerican civilizations cacao was a highly prized a sacred plant, and the seeds were even used in a sophisticated currency system.
The fruit of the cacao tree is a hard, orange and oval-shaped cask that will turn maroon red once fully ripe. They are cut open and contain about 10-20 seeds about the size of a single piece of garlic.
The seeds are then sun-dried to remove excess moisture and loaded into large sacks and delivered to a processing location.
The next step in the cultivation process is the critical juncture that determines the overall health prospects on which the finished product depends.
When the seeds are heated to temperatures between 200 - 250 degrees Fahrenheit for 10 to 20 minutes it is process called roasting, much like how coffee beans are treated.
There are variations as to the time and temperature specifications based on taste preference. This process can also be called refining the cacao.
The roasting process adds color, aroma and a rich taste to the cacao seeds, but in the process will cut in half the overall antioxidant content inherent in cacao, and sometimes even up to 90%.
To confuse matters a little more, roasted beans are typically called 'cocoa' as an industry standard, which is phonetically and grammatically similar to the original fruit, 'cacao'.
The majority of international companies that buy raw ingredients for their products are using refined cocoa powder as the base of their recipes, instead of raw cacao.
This is a critical discrimination to make when seeking out the best products that will simultaneously provide the rich benefits of cacao while not burdening oneself with a sucker punch of excess refined sugar.
A prominent example of a conscientious health-based option is original recipe created by Medicinal-Foods.com. It has trademarked an original Shaman's Blend that was inspired by the indigenous South American traditions of healing with native medicinal plants.
It not only contains 100% raw organic cacao, stone ground into a powder, but a host of other powdered supplements that mix seamlessly into the cacao powder that elevates the health benefits dramatically.
Very importantly, it has Lucuma powder, also called the South American Eggfruit, which is native to the coastal regions of Peru and Ecuador. It is a sugar substitute which adds a natural sweetness.
Lucuma has a unique and memorable taste that is likened to butterscotch and maple syrup, and is commonly used in Peru as a natural flavoring in milk shakes and ice cream.
Also in the blend are a powerful collection of powdered superfoods, including:
Pure Spirulina (blue-green algae)
Anti-inflammatory and and rich in amino acids.
Pure Chlorella (green algae)
A colon detoxifier and rich in polyunsaturated fats.
Ashwagandha Root
An aphrodisiac that helps relaxation and improved sleep patterns.
Hemp Protein
Contains 10 essential amino acids as well as potassium and magnesium.
Macuna
A vitality-booster that improves one's sperm count and skin condition.
Maca Root
Another aphrodisiac that gives energy and helps with hormone balancing.
Reishi Mushroom
Improves blood pressure, circulation, liver functioning, and is a stress reliever.
Cordyceps Mushroom
An adaptogen that greatly improves cellular regeneration and gives stamina and circulatory efficiency.
By inserting so many of these powerful supplements (each has other benefits which can be individually researched) the result is a greatly regenerated immune system that will help detox and sustain multiple organs simultaneously.
The unique and far-reaching health benefits of these added superfoods set a new standard for the potential of cacao-based products.
The common everyday refined cocoa products that can be found in practically every grocery store around the world pale in comparison not just in the overall nutritional value but in the overall taste profile because of the natural and diverse ingredients.
Enjoying a rich chocolate bar is an age old pleasure that is not likely to disappear anytime soon. But instead of feeling guilty, or queasy from the excess sugar, the powdered cacao base can be potent starting point for adding a wide range of other nutritious supplements.
Product Highlights
This Chocolate Bar, not your ordinary. Experience the Feeling & Alertness with one bite!
Delicious Raw, Dark, Organic Chocolate Bar blended with Superfoods like Reishi and Cordyceps
We use only the highest quality sustainably harvested Ecuadorian Heirloom Criollo Cacao
You'll love our enhanced chocolate bars with superfoods, super-herbs, and natural aphrodisiacs
Made with Love, and nutritiously satisfying with organic Hemp Protein