Full Description
Carbon60 benefits revealed in Kathy Ireland Interview of NASA Material's Engineer Bob Greska


Greska's C60™ is a new Nano Technology Food Grade Dietary Supplement that Stabilizes free radicals … A cause of aging and most all health issues.
Basically, it is a bottle of electrons that supplies electrons to Neutralize Ionic Toxins and Free Radicals at the cellular level.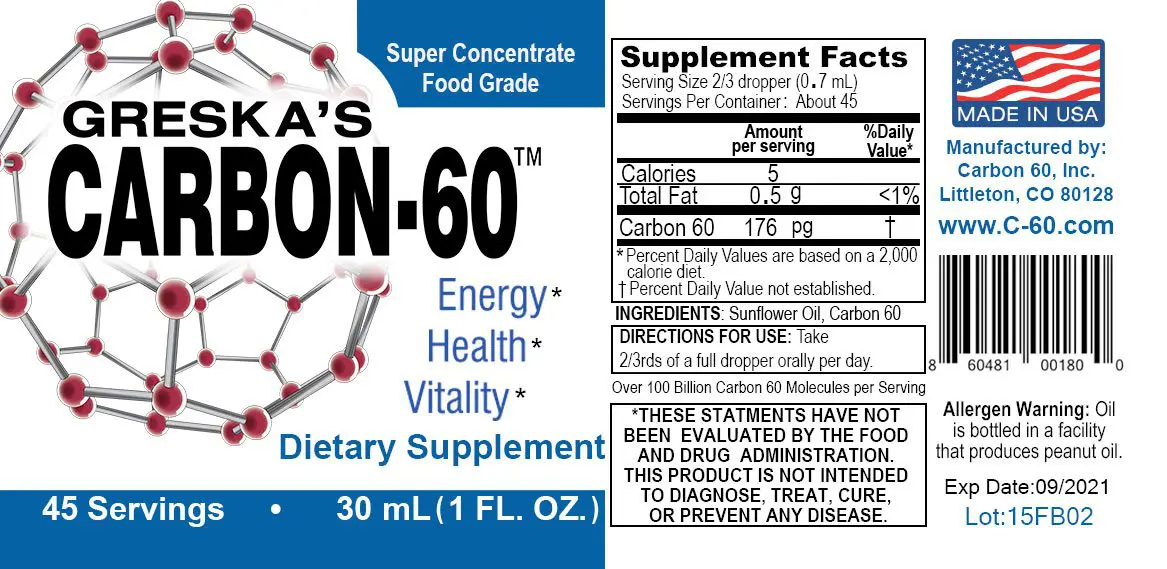 Ingredients List
(click each ingredient to lean more)
Carbon 60

Over 100 Billion Carbon 60 Molecules per Serving

Sunflower Oil
Allergy Warning: made in a factory that processes peanuts, tree nuts and dairy products.
Directions / Suggested Use
Take 2/3 of a full dropper orally per day
How long does a bottle last?
One bottle of C60 oil is a 45 day supply at the recommended 2/3 ml (1/8 teaspoon) per day.
What is the Serving Size?
The serving size is two thirds a milliliter (2/3 ml) or 1/8 teaspoon. There are 45 servings in a bottle for a 45 day supply.
How often do I take C60?
We recommend once per day two thirds a milliliter (2/3 ml) or 1/8 teaspoon.