Silver Biotics is an amazing brand of colloidal silver that uses a multi-patented technology called SilverSol. Its unique solution administers nano particles into the body in a more advanced way that boosts its overall effectiveness for a multitude of health benefits.
Many claims are made about the use of colloidal silvers for general health. "Silverware" is a term popularly used today for forks, spoons and knives because in the past these utensils were actually made of silver. Silver has a natural anti-bacterial quality and so plates and other dishware was also made of it.
There have been many instances throughout history of numerous civilizations using silver to preserve food and kill off harmful bacterial.
Silver urns and pitchers were used to preserve wine, and in the middle ages silver coins were often placed at the bottom of milk jugs so that the milk wouldn't spoil by slowing the growth of bacteria.
Today, many brands exist but the effectiveness of colloidal silver has sometimes come into question, namely the potential danger of accumulating too much silver in the body.
The product features SilverSol technology was created to improve upon other formulas and has been tested rigorously for safety and effectiveness; that's why we chose to offer it to our customers.
What makes this advanced form of colloidal silver unique is each nano-sized silver particle is coated in an AG4O4 molecule (4 Silver atoms and 4 Oxygen atoms) which helps bind the silver particle to the water molecules and thus becomes a part of the structure of the water. This has proven to be a more efficient way for the body to utilize and later eliminate the silver particles.
Silver Biotics immune support
Immune support is one of the hallmark features of this amazing product and is one of the most common uses for colloidal silver in general. Firstly, it kills harmful bacteria, viruses and fungus within the body as well as in external environments.
When the silver nanoparticles come into contact with the harmful foreign substance, they bind to the microbial cell wall and eventually penetrate into the cell.
Once inside they bind to enzymes needed to metabolize energy, effectively shutting down its energy production. And lastly, the silver then attaches to the DNA strands of the microbe and shuts down its reproduction process.
In this way silver nanoparticles are able to neutralize the growth and reproduction of foreign viruses and bacteria in ways that antibiotics cannot.
It has been shown to be an effective treatment against the common cold and flu and the bacterial infections that typically come in tandem, such as a sore throat and even bronchitis.
In one particular study of one hundred children with a common cold, ninety percent experienced reduced inflammation when taking nano silvers while only sixty percent did who took a saline solution.
Other studies have been replicated with animals, all with consistent, positive results for reducing inflammation.
Advanced nano silver solutions such as this one have also been shown to treat even more serious viral infections, such as herpes, HIV/AIDS, and some cancers.
Silver Biotics benefits
The benefits of nano silver products begins with the correcting of one concern made by skeptics: "If the silver molecules are killing bacterias throughout the body, then they are probably killing the good bacteria (probiotics) in our bodies too, right?"
After years of 3rd party testing and thousands of pages of documentation the answer is a solid "No". This product does not affect probiotics in our intestinal flora, but other forms of colloidal silver run the risk of destroying other helpful bacterias in our body.
SilverSol technology-based products are also more stable, so the silver can undergo more drastic changes in temperature and not lose any of its capabilities. They also leave the body after 24 hours, so there is no threat of accumulation in the body or the skin condition Argyria.
Buy Silver Biotics
We carry this patented formula in a 16 oz. bottle. We also recommend brushing your teeth once a week with it to kill the harmful bacteria in our mouths that naturally accumulate; and also on the skin.
One serving size is 50 micrograms of silver, which is the recommended serving size the body needs daily to fight off bacterial and viral infections. There is also an extra strength version.
Silver Biotics reviews
While the uses and benefits of silver have been known for centuries, there is still a plethora of contesting information online as to whether colloidal silvers and nano silvers actually provide the claimed benefits.
Some sites say that the benefits only occur in laboratory petri dishes, and the aforementioned skin condition Argyria can become a serous side effect. Argyria occurs when a drastic over-consumption of silver can turn the skin a grayish blue color, although no other effects to the body's functioning have been noted in these cases.
This rare condition was popularized in the late 1990s when a man with this condition appeared on television that was used to effectively scare potential buyers from purchasing the then existing formulas of colloidal silver.
But it was revealed that the man took a silver solution as eye drops repeatedly, which is not the recommended method for taking it daily, and his condition only occurred after many years. The silver had accumulated in his body, but this nano silver product circumvents this problem through the AR4O4 molecule that more effectively binds to water and so exits the body quickly.
In fact, no studies show that serious side effects occur with taking this supplement, and many people take it orally every day for years and report not catching the common cold or flu, or when they do it is very mild and the body is able to overcome it very quickly.
SilverSol nano silver products have also undergone millions of dollars of scientific testing in FDA approved 3rd-party labs to ensure the efficacy of the health benefits. And after all the experiments and volunteer human tests, as well as years of selling their products on the open market, no harmful side effects were reported whatsoever.
SilverSol technology has brought the ancient bacterial treatment of using silver into an entirely new paradigm. It is far more safe and effective than all other forms of colloidal silver, and can be taken as a daily immune boosting supplement without any risk of serious side effects. There is also a toothpaste product with these qualities.
Supplement Facts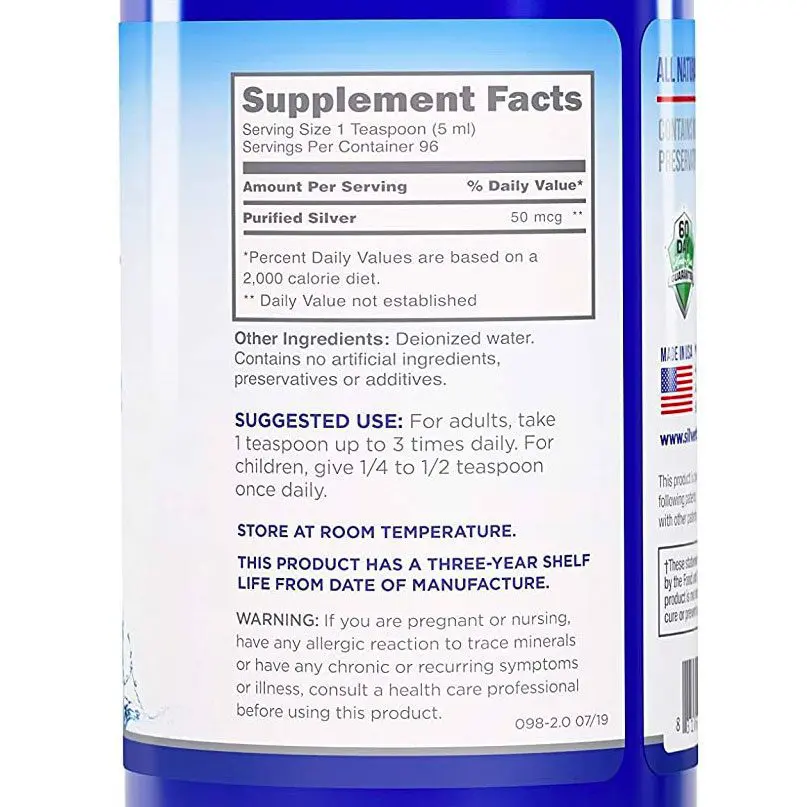 Directions / Suggested Use
For adults, take 1 teaspoon up to 3 times daily.
For children, give 1/4 to 1/2 teaspoon once daily.
Nano Silver: My Precious
Sky Kubby, Medicinal Foods Founder, Invincible Immunity Protocol
Immunity is my superpower. Because it wasn't always that way. I've spent a lifetime building it. Here's what I take- my "precious" and more… My simple Immune Boosting regimen with Nano Silver (not colloidal) and more! All about why I love this stuff!
This is everything I took when I recently travelled to Los Angeles to give a talk on Invincible Immunity. There were sick people there and when I returned as well. It helped me weather the Storm unscathed and in great health!
Integral part of my Invincible Immunity Protocol
Throughout the centuries and into today, silver in various forms has been used to benefit mankind.
Silver in the good ol' days:
Some cultures added powdered silver to a newborn's first bath as protection against a harsh world.
Milk farmers used to use a silver pail to collect milk, because they found that the raw milk could remain unrefrigerated for hours without spoiling.
Similarly, our early settlers would often throw silver dollars into their wells or water barrels to keep the water potable.
In days of old, they didn't know why silver made such a difference in their lives; but they knew that it did make a difference when it was used in these ways.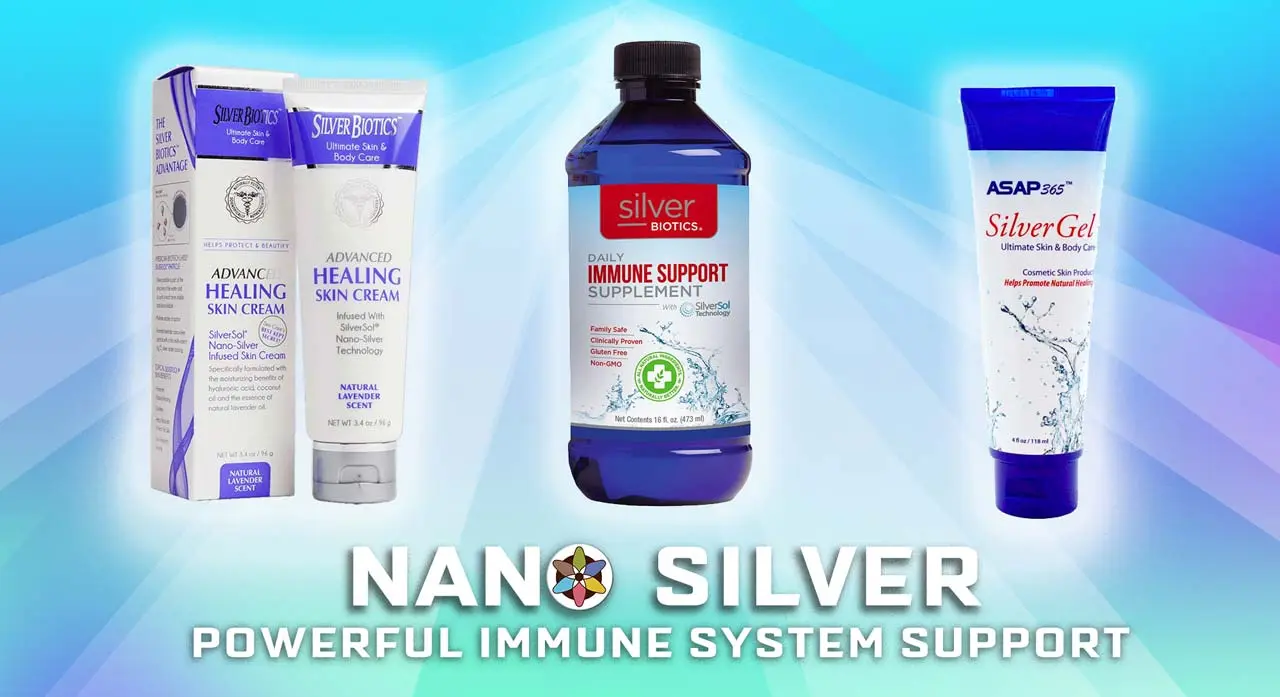 The first line of defense with powerful Nano Silver Products to support a healthy immune system.
Silver Today
Modern science now explains why these ancient practices were effective; it also shows that even in modern-times, silver has many uses that may support our healthy well-being.
Numerous tests at major universities and commercial labs like Kansas State, UC Davis, Brigham Young University have proven the effectiveness of silver.
Does Nano Silver Harm Helpful Bacteria in the Intestines?
Enveloped in a water molecule, this nano silver goes to every nook and cranny in the body, killing pathogens.
This is an important question because some products can wipe out friendly bacteria that inhabit our large intestines.
These friendly bacteria not only produce B vitamins and folic acid, but they support healthy immune function.
The New Silver Solution® does not present such a problem.
Independent studies both at Brigham Young University and Viridis Biopharma have effectively shown this.
In vitro testing of the silver on a number of friendly fauna, such as lactobacillus, have shown that the silver does not kill these helpful, probiotic bacteria.
Read this Total Health Magazine article PDF written by Dr. Sherrill Sellman about the growing problems with resistant bacteria and infection including MRSA (March 2015).
The article also talks about American Biotech Labs new FDA OTC cleared wound dressing gels.
These safe but powerful clear hydrogels have direct claims against bacteria, yeast, and fungus.
Fight MRSA infections: works even against bacteria like MRSA and VRE etc. etc., also yeast and fungus like Candida albicans and Aspergillus niger.
For the clinical data on which pathogens are killed at which parts per million read here:
Silver Health Institute effectiveness againts Bacteria and Pathogens
Silver Health Institute 83 Silver Solution Uses
Fights Staph infection This is the only silver we have found that wipes out the antibiotic-resistant MRSA at 14 ppm
Candida is top of the list at 10 ppm. Most other pathogens you and your family are at risk of daily are around 3 ppm.
Why should you always keep Nano Silver on hand?
First Line Of Disease Defense, Kills a Broad Spectrum of Pathogens
Great to have if you feel your immune system is running low!
Perfect to make sure cuts and scrapes do not get infected!
Proven Safe In Numerous Tests, it reaches everywhere within and then leaves the body!
Provides the 50mcg needed of silver per day lacking in topsoil
Provides rapid-fire machine gun electron exchange to destroy viruses and bacteria where colloidal silver just does it once.
$ Millions In Research Invested
New Test Work Includes Bird Flu
New Patent Issued and additional Patents Pending
Yeast (Candida) Testing:
University Of California at Davis (Jason Henrie, 4/13/99) Yeast Test- found effective in killing S. cerevisiae var and Montrachet forms of yeast.
Brigham Young University- Antimicrobial Efficacy Against Vaginal Pathogens When Used As A Suppository- found effective in killing 21 pathogens, including two different types of yeast and one other fungus. Jessica K. Pate, August 2004.
Viridis BioPharma (India)- found effective in killing Candida albicans.
Analytical Resource Laboratory- found effective at killing Candida albicans.
The Silver Solution provides a first line of defense to protect our bodies against pathogens that are killing millions of people throughout the world annually.
The Silver Solution is an immune-modulator, meaning that it may help a healthy immune system to fight off disease!