Customer Rated Best Tasting, Highest Quality Superfoods
Satisfaction Guaranteed
If your are not completely satisfied with your purchase, simply contact us within 14 days for a full replacement or refund.
Turkey Tail Mushroom Powder
Turkey Tail Mushroom Powder is one of the most powerful immune supporting mushrooms
Rich in Phenols and Flavinols for antioxidant power, STRONG IMMUNE System and GUT HEALTH
Contains powerful polysacharrides, PSK (Krestin) and PSP (Peptide) for super immune boost.
Steam-activated, highest quality, organic ingredients and guaranteed to contain < 5% substrate
Immune Boosting, helps recovery from bronchitis and respiratory disease
Harvested at Every Stage of the growing cycle: • Fruiting body • Spore • mycelium • Primordia
100 Servings of Non-GMO, Organic, Gluten-Free Immunity Boosting Mushroom Powder.
ANCIENT CULTURES HAVE Revered Turkey Tail Mushroom for its Immune Boosting Properties.
Medicinal-Foods delivers the highest quality full-spectrum Turkey Tail (Trametes versicolor).
Medicinal-Foods™ crafts the Highest Potency, Steam-activated, Full-Spectrum Mushroom Powder on the market.
Feed your Potential!
Vegan
Certified Organic
Un-sweetened
Gluten-Free
Dairy-Free
Caffeine-Free
Non-GMO
Fair-Trade
Sustainably Harvested
100% Radiation Free
Steam Extracted
No Fillers
No Additives
GMP Certified
Grown in the USA
Full Description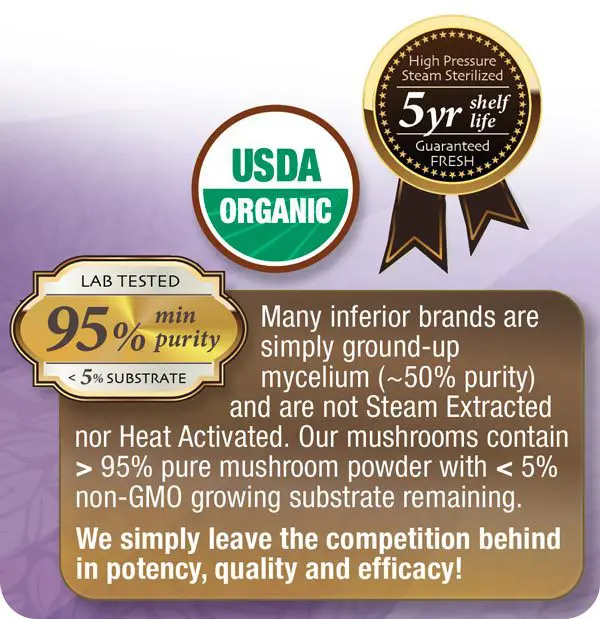 We deliver the highest potency, steam activated, Full-Spectrum mushroom powder available today. 100% USDA Certified Organic!
Turkey Tail has beed featured in Chinese Materia Medica since 200 BC Han Dynasty as an ancient treatment to strengthen Shen (Spirit) & Chi (Vital Energy). Since then, many studies, both in the East & West, show its immune boosting & anti-cancer properties.
Recent studies show that FULL SPECTRUM mushrooms provide higher uptake in the body of Anti- oxidants, Selenium, Vit. C, Choline, Prebiotics, Polysaccharides & Beta Glucans.
Enjoy the highest potency Turkey Tail available! Many manufacturers simply grind up the mycelium with the growing medium but we extract 95% of the medicinal properties from our gluten-free, non-GMO substrate.
The result is the highest potency medicinal mushrooms available today!
Ingredients List
(click each ingredient to lean more)
Allergy Warning: made in a factory that processes peanuts, tree nuts and dairy products.
Many cheaper mushroom powders are simply ground-up mycelium and not steam activated. Medicinal Foods uses traditional extraction methods used for 1000's of years- along with modern-day cutting edge autoclaving and micronization tech.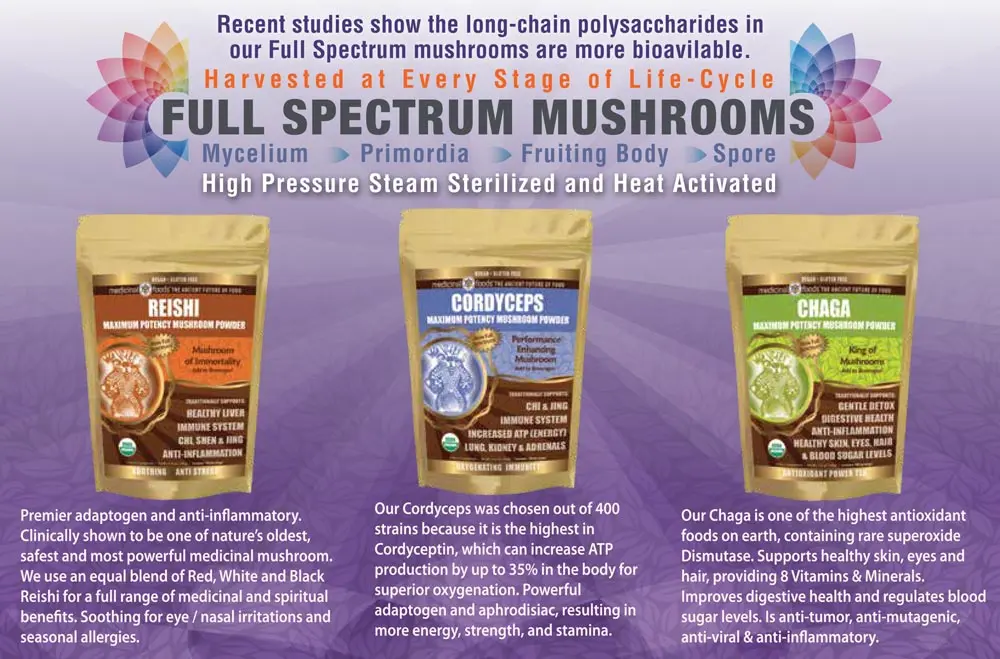 Directions / Suggested Use
Add one to two servings per cup of water, tea, coffee, or creamy beverage of choice.
Enjoy hot or cold!
Blend with fruit and ice for a fantastic smoothie!
Great on yogurt, oatmeal, ice cream, or your favorite dessert!
Sprinkle on sweet dishes for a superfood boost!
Sprinkle on veggies and savory dishes for a superfood boost!
Full-Spectrum means the whole life-cycle of the mushroom is included: Fruiting Body, Mycelium, Spores, and Primordia (the super potent baby mushrooms).
The Mycelium contains the highest polysaccharides and medicinal benefits from the most LIVING part of the mushrooms life cycle. The Primordia is the super-potent baby mushroom. The Spore is best for Spiritual properties and the Fruiting body boassts a host of other nutrients
Serving Info
Serving size: 1 gram ( 1/4 teaspoon )
Servings per container: 100
IN ANCIENT TIMES, this rare medicinal mushroom treasure was reserved for only Kings and Queens to build Jing (Vitality) & Chi (Energy), restoring Health and Longevity.
Recipes with this product
Although many thousands of people have benefited from our products and traditional healers have used the ingredients in our products for millennia, we are required to inform you that: Statements regarding the health benefits of this product have not been evaluated by the Food and Drug Administration. This product is not intended to diagnose, treat, cure or prevent any disease. If you are pregnant, nursing, taking medication, or have a medical condition, consult your physician before using this product.
Our customers also recommend