Full Description
Silver Biotics Silver Gel is a skin-rejuvenating cosmetic gel by Silver Biotics.
Not only that this powerful silver ingredient in this product moisturizes and softens the skin, but it also actively repairs it.
Dry skin is one of the most common problems we face after the winter period. This change is more than just an inconvenience because dry skin loses resistance and becomes susceptible to disease.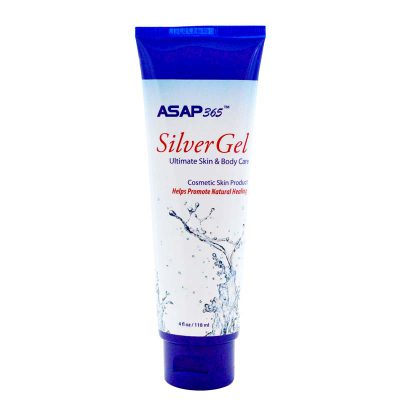 Changes in the skin are characteristic and include the appearance of small, fine wrinkles, itching, a feeling of tightness and dandruff.
Inadequate clothing and skincare products, frequent bathing in hot water, poor diet and insufficient fluid intake during the day and smoking are subjective, and low levels of atmospheric humidity (overheated rooms, sunbathing in the solarium, sudden changes in temperature, wind and central heating ) and stress are objective factors that promote skin dehydration.
Some of these factors can be mitigated and some completely eliminated by simply correcting bad habits.
Silver Biotics products have been demonstrated in studies to be beneficial and safe to use on a daily basis.
There is no adult who at least once in his life has not had problems with dry and sensitive skin that itches, stings, tightens and is prone to redness and cracking, and even thickening.
These problems are not only aesthetic in nature, it is a skin condition that needs to be treated and treated so that it does not get worse and become chronic.
Especially within the elderly, dry skin is a condition that reduces the quality of life and creates discomfort on a daily basis. But even the youngest are not immune, and can often suffer from atopic dermatitis in the early years, and even in the first months.
Dry skin is a common problem among adults and the elderly, and one of the main causes is the ageing process. Namely, as the skin ages, it less regulates the mechanisms for maintaining hydrolipid balance, which has a negative effect on its protective barrier.
With age, the skin becomes thinner and thinner, which also means that it becomes dry and sensitive to various negative factors. Most of these problems are due to the inability of the skin to maintain the necessary hydration and retain moisture.
There is a loss of water or dehydration of the skin, and this leads to various unpleasant problems. The skin becomes prone to redness, itching, cracking and thickening, dandruff and tightness occur, and the general impression is grey and unhealthy skin without shine.
In addition to ageing, which is one of the main causes of dry skin, other external and internal factors affect this negative phenomenon. Negative external factors most often include weather, and this is especially true of changes in the seasons and extreme conditions, such as high heat and cold.
Ultraviolet radiation and especially excessive and unprotected sun exposure over the years show its devastating impact on the appearance and health of the skin. Often, medication intake also has a negative effect on skin hydration.
Improper skincare, which includes washing too often and choosing the wrong product, can also affect or even cause dry skin. Internal factors include genetics, hormones and the already mentioned age, ie the ageing process.
It has been demonstrated that Silver Biotics gel remains stable whether frozen or heated and that it does not metabolize or bond in the body. This form of silver's chemical stability precludes Argyria, which may be generated by silver products that exploit unstable ionic silvers.
Not only does the skin become sensitive, dry, prone to cracking and thickening with age, but also due to other physical challenges, the elderly belong to a riskier group whose skin problems need to be carefully repaired and cared for.
One of the key problems is incontinence, due to which the elderly have constant contact with irritating factors, such as moisture from urine and/or stool, which can remain on the skin and worsen its condition and health.
Also, due to wearing special cosmetic products, the skin is unable to breathe normally. Proper care, with proper skincare in mind, is crucial.
It contains three steps that include gently cleansing the skin of dirt, sweat and dead skin cells, supporting epidermal regeneration and activating the skin by moisturizing and massaging, and protecting the skin with special protective oil creams.
SilverSol has various modes of action and provides a favourable electrostatic charge, making it a more effective alternative than other forms of colloidal silver skin treatments, especially in lesser dosages. On top of that, Silver Biotics Silver Gel is useful for many things and these are some of its features and benefits :
Skin is renewed and revitalized.
Skin is hydrated and softened.
100% Natural
Skin-friendly
Promotes Recovery
It is BPA-Free
FDA-approved in a double-blind study
There were no dyes used in the production of this product.
Doesn't affect the microbiome of the skin
It is alcohol-free
Soothing for the skin
Doesn't leave a stain on your skin or clothes
It is petroleum-free
Over 30 safety studies have proven it to be safe
Proven to be safe for everyday use
Independent studies have shown that it is 10x more effective than other silver products
Dehydrated, dry skin is less resistant to environmental factors (eg temperature changes) and is less able to remove toxins and harmful microorganisms. It is more prone to the formation of wrinkles and facial lines due to the accumulation of cells in the upper layers of the skin.
Dead cells on the surface of the skin reflect light poorly, so the complexion looks expressionless and unhealthy.
Many people believe that they will remove oily skin problems with aggressive facial products and that the solution is to further dry the skin. However, they are not aware that this creates the opposite effect and that the skin will become even more oily in this way.
Silver Biotics gel
For anyone that wants to treat skin issues without harsh medications, Silver Biotics gel is for them.
When your skin is healthy, you don't even think about caring for it. Your skin is your biggest organ, and when health is at its best, you really don't even think about skincare.
But when your skin becomes dry or itchy, then a problem arises. But don't panic because there are also natural changes that affect it. Weather and extreme temperature changes can cause discomfort.
Cold winds or burns can also affect the change. If your skin is healthy then it will be soft and smooth. It will have a shiny and radiant look, and will not have acne, blackheads and clogged pores.
It won't be overly dry, nor too greasy. Any changes in the skin can be negative, even when it comes to skin colour. If you see lighter or darker spots on your skin, then you need to know that your skin needs help.
There are several things that can affect the colour of your skin, including allergies, hyperpigmentation and hormonal influences. And remember, your skin is struggling to regenerate while resting, so you need to get plenty of sleep.
The appearance of the skin can be a direct reflection of what is going on inside our bodies. It is a reflection of your overall health: what you put on your body and what you put into your body are equally important.
Everyone wants to have a healthy, youthful-looking skin. A healthy diet, active lifestyle and healthy skincare habits are important for the overall appearance and health of your skin and you are never too young and it is never too late to start using enriched products with antioxidants and vitamins for skincare to make your skin look and feel absolutely the best.
Use Silver Biotics Silver Gel solely for external, cosmetic purposes. Apply freely and as required to the skin to aid natural healing.
SilverSol's nano-silver particles are drained out of the body within 24 hours, according to studies, and there is no silver accumulation in the body after ingestion. Because of these factors, Silver Biotics asserts that when taken at the authorized dosage, there is no risk of argyria.
When it comes to the specifications of the product, its manufacturer is American Biotech Labs and its official brand is Silver Biotics.
Why should you always keep some of this nano Silver Gel on hand?
Great to ensure rapid healing of cuts and scrapes.
Powerful allay for fungal and yeast infections!
Perfect to make sure cuts and scrapes do not get infected!
It's so small, it goes everywhere, then leaves the body!
The New Silver Solution®
Throughout the centuries and into today, silver in various forms has been used to benefit mankind.
Some cultures added powdered silver to a newborn's first bath as protection against a harsh world.Milk farmers used to use a silver pail to collect milk, because they found that the raw milk could remain unrefrigerated for hours without spoiling.*
Similarly, our early settlers would often throw silver dollars into their wells or water barrels to keep the water potable.
*In days of old, they didn't know why silver made such a difference in their lives; but they knew that it did make a positive difference in their lives, when it was used in these ways.*
Modern science now explains why these ancient practices were effective; it also shows that even in modern-times, silver has many uses that may support our healthy well-being.
Numerous tests at major universities and commercial labs like Kansas State, UC Davis, Brigham Young University have proven the effectiveness of silver.
These statements have not been evaluated by the FDA. This product is not intended to prevent, treat or cure any disease.
American Biotec labs does make an OTC 24 PPM wound dressing gel, which is essentially the same ingredients as the gel listed here and which has received FDA approval to make some claims. The Silver Gel listed here on this page, does not have FDA approval to make claims.
For the clinical data on which pathogens are killed at which parts per million read here: Silver Health Institute effectiveness agains Bacteria and Pathogens
Summary
First Line Of Disease Defense $ Millions In Research Invested Proven Safe In Numerous Tests Broad Spectrum Killing Ability New Test Work Including Bird Flu New Patent Issued and additional Patents Pending
First Line Of Defense
The Silver Solution provides a first line of defense to protect our bodies against pathogens that are killing millions of people throughout the world annually. The Silver Solution is an immune-modulator, meaning that it may help a healthy immune system to fight off disease!
Product Highlights
Silver Biotics Silver Gel is a skin-rejuvenating cosmetic gel
100% Natural & Alcohol Free
Skin is hydrated and softened
FDA-approved in a double-blind study
Petroleum-Free and BPA-Free