Customer Rated Best Tasting, Highest Quality Superfoods
Satisfaction Guaranteed
If your are not completely satisfied with your purchase, simply contact us within 14 days for a full replacement or refund.
Skin Tight Anti-Aging Vitamin C Serum
Supports skin elasticity, hydration, collagen production and wrinkle reduction.
Anti-aging Hyaluronic serum formulated to smooth wrinkles and boost skin health
All natural formula free of toxins. Hydrates all skin types
Contains beauty herbs, nutrients and healing extracts
Powerful replenishing & hydrating formula- great for sensitive skin
The Ancient-Future of Food- for the skin!
Experience the hydrating anti-aging power of our world-class Hyaluronic Acid "C" Serum to tighten up wrinkles on the face and around the eyes.
With a botanical focus on natural beauty herbs our formula offers a healthy alternative that works better- without the toxic soup of chemicals most "C" Serums contain. Scroll down for more info…
Vegan
Gluten-Free
Non-GMO
Fair-Trade
100% Radiation Free
No Fillers
No Additives
All Natural
NSF Certified Product
Lactose Free
Solvent Free
Soy-Free
Full Description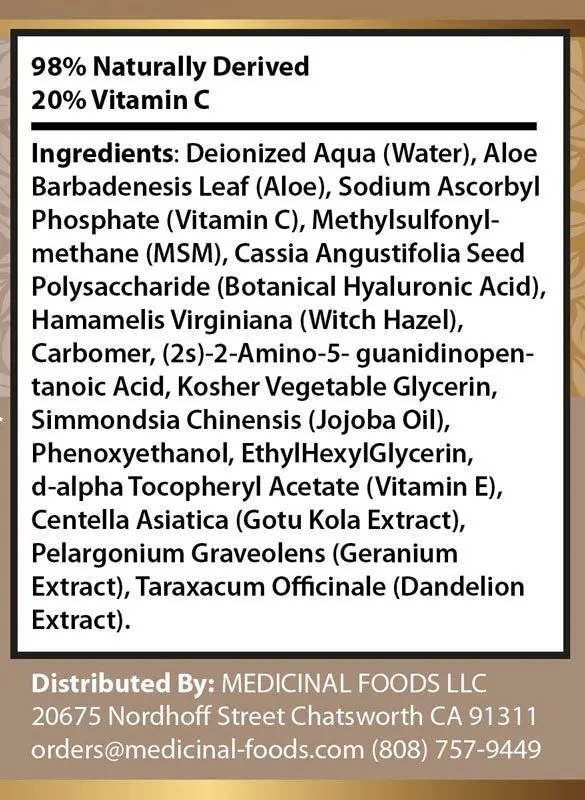 Directions / Suggested Use
Suggested Use:  Wash and pat skin dry. Apply a small amount with fingertips to freshly cleansed, and toned face, neck, and deallocate areas (avoid contact with eyes). Allow time to absorb prior to moisturizer application.
Skin TIght is an Anti-Aging hydrating Hyaluronic Vitamin C serum formulated to smooth wrinkles and boost skin health. Filled with herbs and antioxidants. Our world-class Vitamin C serum supports skin elasticity, collagen production and wrinkle reduction.
Not all Hyaluronic Acid is the same. With a lower molecular weight our HA penetrates deeper into the skin to increase moisture content and decrease wrinkles. Acts as an invisible layer of moisture to protect and calm inflammation.
Skin Tight utilized the latest scientific research and formulated with optimal ratios of collagen peptides, herbs and nutrients.
The Ancient-Future of Food- for the skin!
Although many thousands of people have benefited from our products and traditional healers have used the ingredients in our products for millennia, we are required to inform you that: Statements regarding the health benefits of this product have not been evaluated by the Food and Drug Administration. This product is not intended to diagnose, treat, cure or prevent any disease. If you are pregnant, nursing, taking medication, or have a medical condition, consult your physician before using this product.
Our customers also recommend