Our Chaga Mushroom Powder is an Organic Siberian Superfood crafted for your Longevity!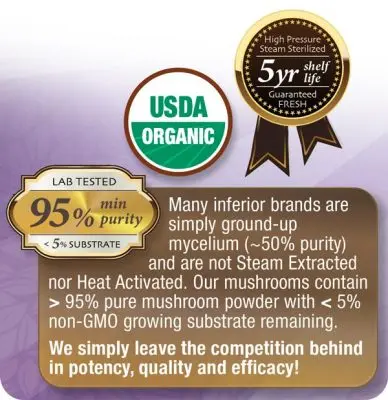 Our chaga mushroom powder is Organic, has No Fillers, is Full Spectrum and is always Steam Activated.
We leave the competition behind!
Many cheaper mushroom powders are simply ground-up mycelium and are not steam activated, nor Full Spectrum. The latests studies show Full Spectrum may have higher bio-availability.
Ingredients List
(click each ingredient to learn more)
Organic Chaga Mushroom (Inonotus obliquus)

Immune and tonifying properties promote longevity
Known as the "King of Medicinal Mushrooms"
Full-spectrum powder (includes fruiting body, mycelium, spores, and primordia)
Grown with Gluten-Free, Non-GMO, Organic substrate, which is 98% removed by hot-water extraction process.
Not just simply ground-up mycelium. Our mushroom powders are hot-water extracted using traditional methods.
Grown in our high-tech facilities in Oregon, with the purist, highest quality standards.
More info on Organic Chaga Mushroom (Inonotus obliquus)

Allergy Warning: made in a factory that processes peanuts, tree nuts and dairy products.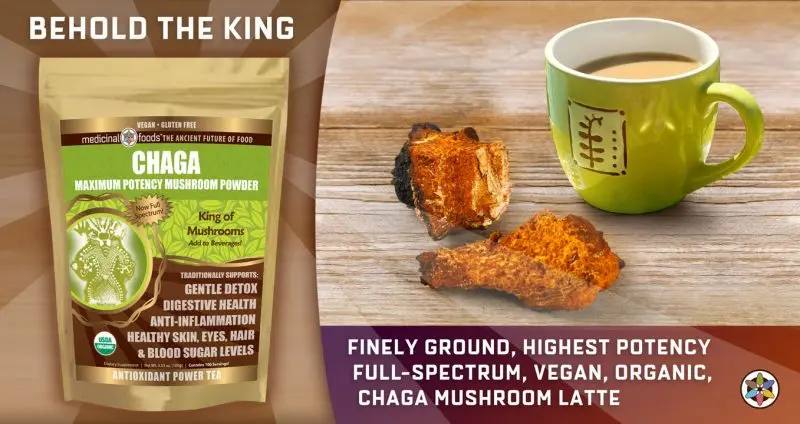 Full-Spectrum means the whole life-cycle of the mushroom is included: Fruiting Body, Mycelium, Spores, and Primordia (the super potent baby mushrooms).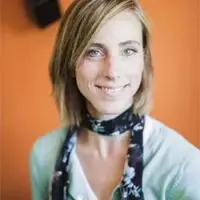 The many benefits of Chaga Mushroom were researched by Heidi Moretti MS, RD, LN.
Make every meal nutrient rich! and power packed with our delicious, health enhancing Chaga.
Add this mushroom powder to your favorite recipes, sprinkle on soups and salads, make superfood smoothies, tea, hot cereal, ice cream, and more!
Directions / Suggested Use
Add one to two servings per cup of water, tea, coffee, or creamy beverage of choice.
Enjoy hot or cold!
Sprinkle on sweet dishes for a superfood boost!
Sprinkle on veggies and savory dishes for a superfood boost!
Chaga is one of the highest antioxidant foods on earth†, containing antioxidant Superoxide Dismutase.  Chaga was revered as the "Gift From God" (Siberians), "The Diamond of the Forest" (Japanese) and the "King of Plants" (Chinese).
Special Product Notice
Our Full Spectrum mushroom powders are the highest potency available. Note that because of its potency, it has a strong, but natural earthy smell from the "Full Spectrum" combination of: Primordia (baby mushrooms), mycelium, fruiting body, and spores; all freshly grown and hot steam activated.
Our previous "Nano-particled" mushroom powder did not have this strong smell, but lacked the long-chain polysacharrides found in our new Full Spectrum mushroom powder—which studies show may be more readily taken up in the body.
You may also notice that the color is not as dark as wild grown Chaga mushrooms. Ours are lab-grown at the highest lab-grade standards by one of the world's largest mushroom growers. As soon as they are perfectly ripe for harvesting they are processed and packaged—you can rest assured that they are very fresh, super potent, and the highest potency. The dark color comes from the wild Chaga interacting with the sunlight. WE have also included some wild Chaga for a deeper color and any other medicinal benefits.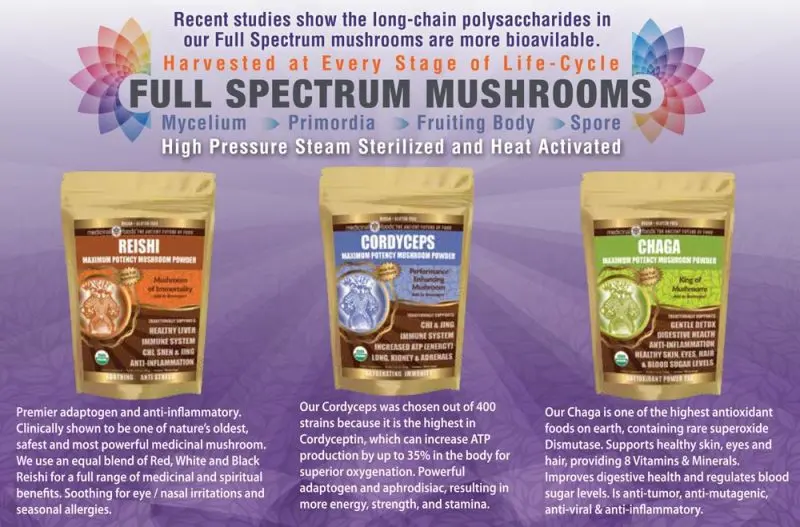 Serving Info
Serving size: 1 gram ( 1/4 teaspoon )
Servings per container: 100
Recipes with this product
The Memorial Sloan Kettering Cancer Center has stated "Laboratory and animal studies show that chaga mushroom may inhibit cancer progression…[and] that chaga can activate some types of immune cells … Laboratory, animal studies and a small study in humans also suggest anti-inflammatory effects…" (1)