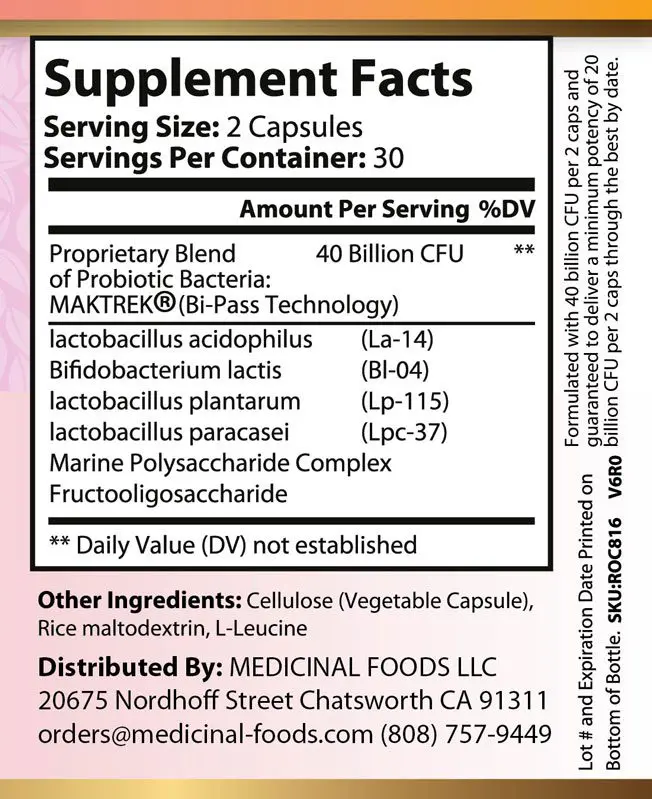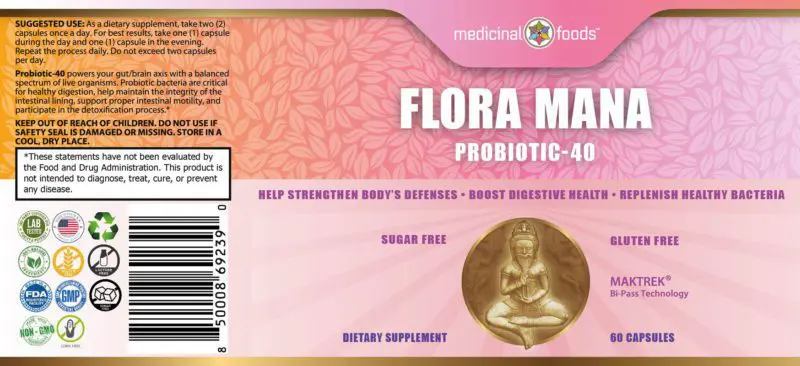 Flora Mana probiotic capsules are formulated to support athletic performance, enhanced gut micro biome, increased muscle mass, immune health, reduced cortisol levels, digestive health, cognitive function, and improved allergy symptoms.
Directions / Suggested Use
Suggested Use:  As a dietary supplement take two (2) capsules once a day. For best results, take 1 (one) capsule during the day and one (1) capsule in the evening. Repeat the process daily. Do not exceed two capsules per day.
Serving Info
Serving size: 1 Capsule
Servings per container: 60
What sets Medicinal Foods apart from the rest:
Our product is created utilizing the latest scientific research and for
mulated with optimal ratios of collagen peptides to produce world class results.
Our formula is third party independently tested for heavy metals, impurities, made in the USA, GMP certified, and produced in an FDA registered facility. 1% of the supplements on the market can match our world class standards.
Others source cheap ingredients from heavily polluted soils. Even "organic" supplements not third party tested have been removed by FDA due to high
levels of heavy metals.
Our high quality probiotic 40 billion strain in a purified and efficaciously dosed formula.
Others use cheap sources of probiotic strains that are not alive at time of opening and contain high amounts of fillers and heavy metals.
Benefits of Ingredients & References:
Flora Mana:
●
Supports athletic performance, enhanced gut
microbiome, increased muscle mass, immune health, reduced cortisol levels, digestive health, cognitive function, and improved allergy symptoms (103,104, 107,108, 109).
●
Supports 70% of gut-immunological axis (gut immune system) via
enhanced mucosal
immune response
(toll-like receptors), and upregulation of genetic markers associated with macrophage (gut-immune cell) activity (108, 109).
●
Supports digestive and immune health via decreased irritable
bowel symptoms, suppression of helicobacter pylori growth (pathogenic
bacteria), reduced histamine (reduced allergic response), and reduced
gut inflammation
(103,104, 107, 108, 109).
●
Supports athletic performance via reduction of respiratory tract
infections, reduced muscle damage, improved body composition,
reduction lactate induced exercise (muscle burn), and body
composition (108).
●
Supports gut-brain axis with an extra boost to the neural, endocrine (hormonal) and anti-inflammatory modulation of the
hypothalamic and pituitary-adrenal (HPA) axis
(108).
●
Reduces inflammation via activation of Toll-like receptors (TLRs) and
downregulates the expression of nuclear factor (NF)-κB and pro-inflammatory cytokines (inflammation markers) (109).
Sources:
Park MS, Kwon B, Ku S, et al: The efficacy of bifidobacterium longum BORI andlactobacillus acidophilus AD031 probiotic treatment in infants with rotavirus infection. Nutrients 2017; 9:pii:E887. 104. Hungin AP, Mulligan C, Pot B; European Society for Primary Care Gastroenterology, et al:
Systematic review: probiotics in the management of lower gastrointestinal symptoms in clinical practice an evidence-based international guide. Aliment Pharmacol Ther 2013; 38: 864–886.105. Aragón F, Carino S, Perdigón G, et al: Inhibition of growth and metastasis of breast cancer in mice by milk fermented with lactobacillus casei CRL 431. J Immunother 2015; 38: 185–196.106. So SS, Wan ML, El
-Nezami H: Probiotics-mediated suppression of cancer. Curr OpinOncol 2017; 29: 62–72.