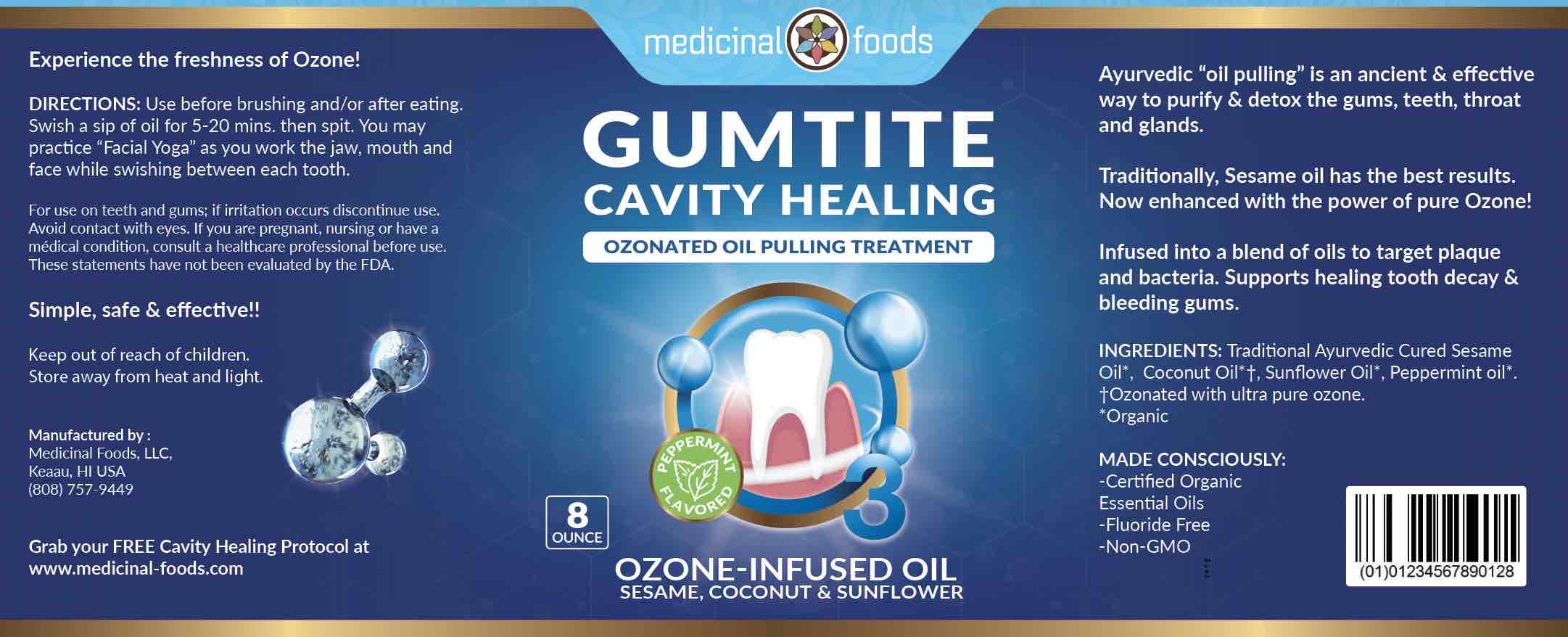 Experience the detoxifying Freshness of Ozone!
Unlock the natural path to gum health and leave gum disease behind with Gumtite, your premium ozonated oil pulling treatment.
Ozone is infused into a blend of oils to target plaque and bacteria. Supports healing tooth decay & bleeding receding gums.
We've gone back to the ancient Ayurvedic tradition of "oil pulling", an effective way to purify & detox the gums, teeth, throat and glands.
Traditionally, Sesame oil has the best results. Now enhanced with the purifying, healing power of pure Ozone!
With a therapeutic level of infused oil, Gumtite offers a holistic approach to gum healing, elevating your oral care routine to a whole new, sparkling clean level..
Key Benefits:
Revitalize Your Gums: Gumtite's unique formula nurtures and rejuvenates your gums, providing relief from discomfort and supporting gum health restoration.

All-Natural Solution: We are committed to your well-being with clean ingredients. Gumtite contains no harsh chemicals or artificial additives, ensuring a gentle, natural remedy for gum issues.

Defend Against Gum Disease: Gumtite is your ally in the battle against gum disease. Regular use aids in combating harmful bacteria and inflammation, addressing the root causes of oral health concerns.

Enhance Your Smile: Healthy gums are the foundation of a radiant smile. With Gumtite, you can take one step closer to a confident, glowing grin.

Feel Amazing! You'll love the tingly sensation of Ozone and your mouth will feel fresher than ever before. Oil pulling has the power to detox your entire body!
How to Use:
Use before brushing and/or after eating.
Swish a sip of oil for 5-15 mins. then spit.
You may practice "Facial Yoga" as you work the jaw, mouth and face while swishing between each tooth. Begin your day by taking a tablespoon of Gumtite.
Spit it out and rinse your mouth thoroughly.
For optimum results, incorporate Gumtite into your daily oral care regimen.
Experience the Natural Difference:
At Medicinal Foods we are passionate about your well-being and committed to environmental responsibility. Our product is cruelty-free and eco-friendly, aligning with our dedication to your oral health journey and the planet.
Elevate your oral care routine with Gumtite and embark on a journey toward healthier gums. Say hello to a happier, healthier smile with every use.
INGREDIENTS:
Traditional Ayurvedic Cured Sesame Oil*, Coconut Oil*†, Sunflower Oil*, Peppermint oil*. †Ozonated with ultra pure ozone. *Organic
MADE CONSCIOUSLY:
-Certified Organic
Essential Oils
-Fluoride Free
-Non-GMO
For use on teeth and gums; if irritation occurs discontinue use. Avoid contact with eyes. If you are pregnant, nursing or have a meddical condition, consult a healthcare professional before use. These statements have not been evaluated by the FDA.
Simple, safe & effective!!