Customer Rated Best Tasting, Highest Quality Superfoods
Satisfaction Guaranteed
If your are not completely satisfied with your purchase, simply contact us within 14 days for a full replacement or refund.
Turmeric Infused Creamed Honey
100 % Raw - Pure-Unfiltered
Delicious flavor!
Anti-Inflammatory, Joint & Skin Support
Immune System Booster with Pollen and Propolis
Mood Booster
Promotes Healthy Heart
A combination of White Mesquite Honey from Northern Sinaloa Mexico combined with our Turmeric Extract with ( 95% curcumin ) is a delightful sweet creamy honey. With raw honey already having great beneficial nutrients like bee pollen and propolis just by adding Turmeric it makes it a super honey for Anti-inflammatory benefits.
Raw
Un-sweetened
Gluten-Free
Dairy-Free
Wild-Crafted
Caffeine-Free
Non-GMO
Fair-Trade
Sustainably Harvested
100% Radiation Free
No Fillers
No Additives
Full Description
We sourced the best Turmeric Cold water extract out there to add extra benefits to our daily lives and still have a great tasting honey.
Turmeric Infused Creamed Honey
100 % Raw - Pure-Unfiltered
Delicious flavor
Anti-Inflammatory
Immune System Booster
Mood Booster >Healthy Heart
Joint & Skin Support
Pollen, Propolis
Made in United States of America!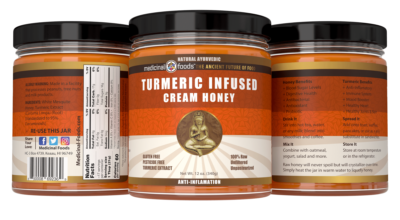 Although many thousands of people have benefited from our products and traditional healers have used the ingredients in our products for millennia, we are required to inform you that: Statements regarding the health benefits of this product have not been evaluated by the Food and Drug Administration. This product is not intended to diagnose, treat, cure or prevent any disease. If you are pregnant, nursing, taking medication, or have a medical condition, consult your physician before using this product.
Our customers also recommend