Full Description
Our Medicinal Foods brand, chocolate covered macadamia nuts are the ultimate treat.
You won't believe they're so good for you!
A University of Hawaii study showed Macadamia nuts ability to actually lower bad cholesterol with it "good fats." --webmd.com/cholesterol-management/news/20000424/macadamia-nut-cholesterol
Macnuts contain the ideal 1:1 ratio of Omega 3's and 6's just like our ancestors ate, plus they are high in Thiamine, that brain-boosting neurotransmitter precursor. Macadamia nuts have nutrients that may help strengthen bones, aid in digestion, and can even help loose weight!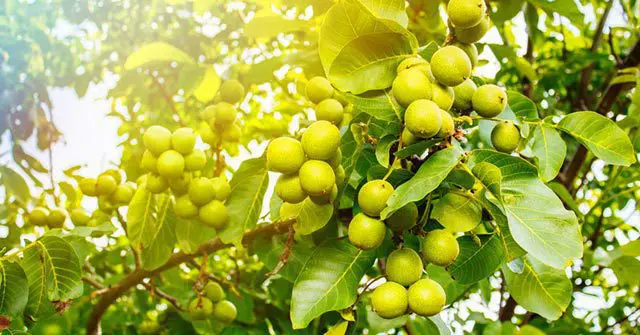 Dark chocolate covered macadamia nuts
Ingredients List
(click each ingredient to lean more)
Raw Macadamia Nuts
Organic Arriba Raw Cacao Powder (Theobroma cacao)

100% pure, certified organic, fair-trade, sustainably harvested, and stone-ground
We use only the highest quality Arriba cacao variety
Our proprietary raw curing process retains the highest nutrient and anti-oxidant properties
More info on Organic Arriba Raw Cacao Powder (Theobroma cacao)

Shaman's Blend™ ( blend of the following superfoods: )

A unique, proprietary superfood blend like no other!
Inspired by the medicinal wisdom of ancient cacao shamans in the South American rain forests
Has mood-enhancing properties

Raw Evaporated Mineral-Rich Cane-Juice

A pure sweetener high in vitamins and minerals.

Vanilla Extract

A perfect touch of classic and delicious vanilla flavor

Himalayan Pink Salt

The famous pink salt with a better flavor than table salt and loads of trace minerals

Allergy Warning: made in a factory that processes peanuts, tree nuts and dairy products.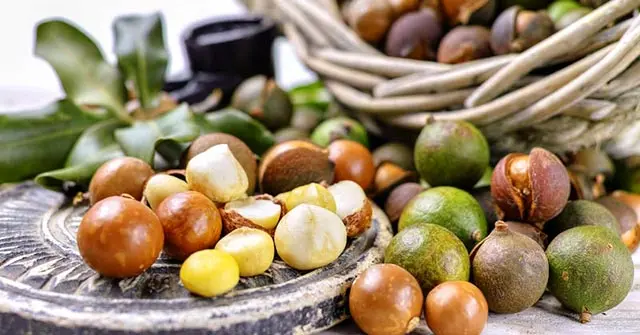 Our premium quality, large variety, raw macadamia nuts are covered in decadent, superfood dark chocolate, and are a rare, medicinal treat to live for!
Directions / Suggested Use
Open bag and proceed to bliss.
Recipes with this product
Macadamia nuts nutrition can be a surprisingly effective implementation to your diet. Most nuts are superfoods by themselves, and with this specific one, it couldn't be different.
This nut is a fruit rich in nutrients such as fiber, protein, healthy fats, potassium, phosphorus, calcium and magnesium, B vitamins and vitamin A and E, for example, which make it a highly nutritive food.
If we value health and want everyone to have a good quality of life, we can't help but talking about the power of nutritious food, and this chestnut is an excellent option. We should eat foods with the most variety of nutrients whenever possible to improve our body functioning.
The lack of nutrients can cause many issues including hair loss, muscle cramps, anemia, fatigue, appetite disorders, among others. Each condition can be caused by the lack of a different nutrient. Therefore, a proper investigation should be conducted to find out which is the nutrient that needs to be increased.
It is important to remember that the overdosage of certain nutrients can also cause disorders, or they will simply be discarded by the body.
Macadamia nuts, in addition to being a tasty fruit, has several health benefits such as fighting free radicals, improving bowel function, helping with weight loss and protecting against diabetes and heart disease.
This nut can bring to you many of the nutrients you are looking for in a quick and practical health snack.
Macadamia nuts calories
This nut is a caloric delicious fruit. Each 100 grams contains 752 calories and should be consumed in moderation. Therefore, it is important to have a balanced diet, with the guidance of a nutritionist, to obtain the desired benefits.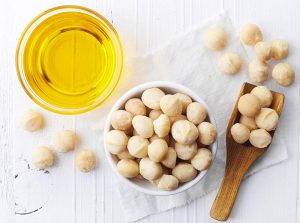 A caloric diet can facilitate weight gain if the energy generated by the consumption of these calories is not burnt, as it will turn into fat. However, for people who play sports and exercise regularly, a good dosage of calories is necessary for good performance.
Carbs in macadamia nuts
It is also a fruit that contains 14 grams of carbohydrates in a serving of 100 grams. It is important to remember that carbohydrates are crucial for the maintenance of our body. Therefore, they should be ingested in adequate amounts for your individual diet, according to the goal you want to achieve.
Macadamia nuts nutrition facts
In addition to being caloric, macadamia nuts are rich in good monounsaturated fats like palmitoleic acid, also known as omega 7, which helps produce fat-burning enzymes, boost metabolism, and reduce fat storage.
They are rich in fiber and proteins that reduce hunger and increase the feeling of satiety, as well as phytosterols, which decrease the absorption of fats by the intestine, helping to reduce weight.
Macadamia nut monounsaturated fats act by increasing the burning and absorption of fats and thus help to reduce bad cholesterol and triglycerides that are responsible for the development of cardiovascular diseases such as myocardial infarction or atherosclerosis.
Moreover, they have flavonoids and tocotrienols that have an antioxidant effect, helping to reduce the production of inflammatory substances, such as leukotriene B4, which are responsible for increasing the risk of heart disease.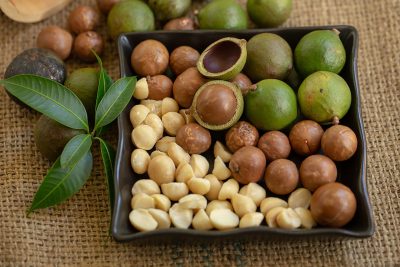 The palmitoleic acid present in macadamia nut helps to reduce bad cholesterol and triglycerides that are responsible for the formation of fatty plaques in the arteries that become narrower and less flexible, causing atherosclerosis that can lead to heart attack, heart failure and stroke.
Tocotrienols are a form of vitamin E and help reducing cell damage, preventing the formation of free radicals that damage the cells and thus delay skin aging.
It is also rich in vitamin A responsible for repairing skin damage and keeping the skin and mucous membranes intact.
Some studies show that the flavonoids and tocotrienols present in macadamia have antioxidant and anti-inflammatory action, reducing not only skin cells damage but cells in general, and thus helping to prevent or aid in the fight against cancer. However, more studies need to be conducted.
Bone health is also benefited by macadamia consumption. For starters, the chestnut is rich in calcium and phosphorus - two essential minerals for the formation, strengthening and transport of nutrients to the bones. In addition, it still has copper, manganese, magnesium, zinc and the aforementioned omega 3, components that also help make this part of the body stronger and prevent diseases such as arthritis, osteoarthritis and osteoporosis.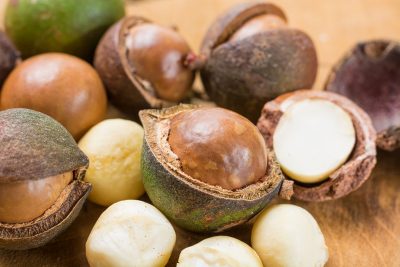 Some studies show that macadamia nut protects against the development of metabolic syndrome characterized by increased blood sugar, which can cause diabetes, and can be an important ally in preventing this disease.
This nut contains soluble fiber that improves digestion and regulates bowel function. Soluble fiber acts as a prebiotic, reducing intestinal inflammation, protecting against the development of irritable bowel syndrome, ulcerative colitis and Crohn's disease.
Macadamia nut can be consumed in bread, salads, farofa and vitamins, for example, or as macadamia oil, used as a seasoning or in the preparation of savory foods or even as cooking oil.
It can be consumed in food supplements or used as an ingredient in cosmetic products for skin and hair.
And of course, only the chestnut itself is already delicious. You can also introduce it to your diet as a snack. There are already products available like Chocolate Covered Macadamia Nuts, a snack made from the macadamia covered with cocoa mixed with mood-boosting herbs and hemp protein, healthy and nutritious.
This nut has become increasingly popular on the table of people looking for a healthy diet. It has a delicious buttery flavor, and this oilseed native to Australia is rich in a number of nutrients that are good for the body - such as proteins, vitamins, minerals and even omega 3.
Macadamia nuts nutrition can be an excellent choice for you to implement your diet and make it even healthier.
Product Highlights
Fresh, gourmet chocolate covered macadamia nuts with superfoods
Low moisture content delivers the freshest Macnut crunch sensation ever
Lightly sweetened with raw, evaporated, mineral-rich Cane-Juice
Lightly seasoned with a dash of Vanilla and Himalayan Salt
Superfood-enriched chocolate contains mood-enhancing herbs and organic hemp protein