Here are three great cacao butter recipes to help you make delcious treats to enjoy.
There are few foods that compare with the creamy deliciousness, and subtle flavor properties of the ketogentic friendly butter extracted from the cacao beans. The creamy, buttery exaction has a subtle hint of chocolate, smells dreamy, melts like butter, is hard at room temperature, and is a superb ingredient for baking, confections and top quality chocolate bars.
1. Five Minute Raw Chocolate Recipe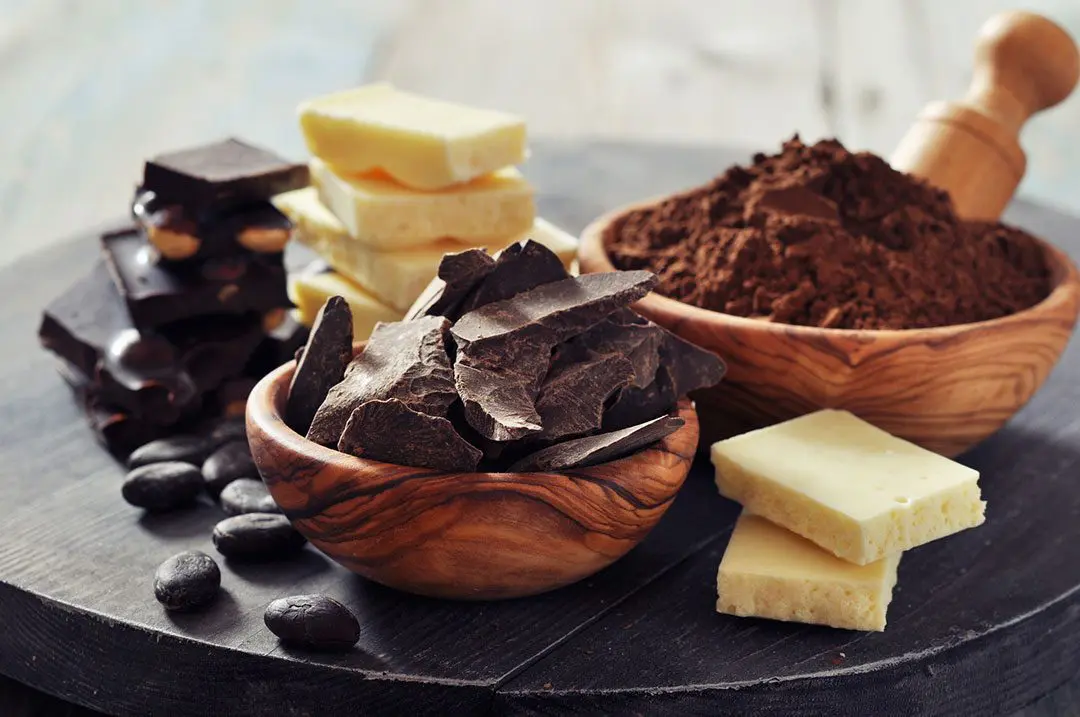 This simple, yummy, and easy 5 minute raw chocolate recipe will have you craving chocolate everyday, and this is a good thing, chocolate (without added sugars!) is very healthy for cardiovascular health and is loaded with tons of nutrients such as zinc and magnesium, so this is a good thing when you are using the right kind of chocolate.
You can feel pretty free to include cacao in your daily diet, however with everything, moderation is important. The maxium amount that the body can normally tolerate is 50 grams per day, so make sure you are not over doinging it! Enjoy regularly but do not exaggerate.
We use Cacao (ka·cow), the raw & unprocessed form of chocolate, which is untreated seeds, or cacao beans, offering a wealth of antioxidants and essential vitamins and minerals.
The recipe makes around 32 small to medium sized chocolates, using 2 silicone moulds trays or mini baking cases or around 3 bars of chocolates using plastic take-away size tubs. You can experiment with various shapes and sizes depending on what you have on hand.
Here ar ethe Recipe Ingredients:
6 Tablespoons of Raw Cacao Butter, look for organic!
6 Tablespoons Cacao Elixir™ Raw Chocolate Powder, our brand is organic and raw!
2-4 Tablespoons Agave Syrup
1 Small pinch of sea salt
Here are the Recipe Directions:
Mix the raw cacao butter with the raw cacao powder and blend well using a metal ballon whisk.
Add Agave and sea salt and mix well.
Once completely blended your mixture should be runny and easy to pour. Pour into ice cube trays or silicone moulds to make fabulous chocolate designs.
Place in the freezer and leave to set for 20 mins to half an hour or in the fridge for around 2 hours.
Special Chef's Tip: You can incorporate some creativity to your chocolate treat by adding a few drops of peppermint essence, vanilla extract, orange peel, coffee or orange liquors. You can also try adding other options to this recipe such as a few Medicinal Foods Chocolate Covered Macadamia Nuts or Raw Chocolate Mulberries for a crunchy taste and more flavors. We have almonds as well. The only limitation is one's imagination!
This recipe and these photos are courtesy of ChocChick.
2. Raw Chocolate Holiday or Anyday Fudge
Tis the season to be Goji! But everday is a fine goji day too if you so please. Goji are great anti-oxidant food, help to elemenate free radicals.
Enjoy this flavorful, raw chocolate holiday treat, which you might not set down as we added one key ingredient: goji berries, creating the ultimate raw chocolate fudge that you might keep all to yourself! Goji berries have the perfect amount of sweetness balanced with a slight tart, and a subtle underlying flavor that is unique to them.
Whether you indulge in the raw chocolate holiday fudge yourself or wrap up this treat and serve as a holiday gift, everyone will be a bit more jolly enjoying the variety of flavors in the delicious and healthy treat!
Recipe Ingredients:
1/2 cup raw coconut oil
1/2 cup raw cacao butter
2 tbsp raw almond butter
1 cup Medicinal-Foods™ Cacao Elixir Superfood Powder
scrape the seeds from one vanilla bean or 1 tsp pure vanilla-alcohol free
3/4 cup raw dried coconut, finely shred
1/2 cup chopped raw pecans
1 tsp freshly grated ginger
1-2 tsp raw agave nectar to adjust sweetness if needed
1/3 cup dried organic goji berries
1/2 cup date paste
Prepare Date Paste: Place 8 soft dates, seeds removed, in blender with 1/3 cup water and process until creamy, scraping down sides as needed. If dates are dry you can pre-soak them in the 1/3 cup of water for 1-2 hours and then blend the dates with the soaking water.
Recipe Directions:
Over very, very low heat, melt coconut oil, cacao butter and almond butter. Remove from heat and add cacao powder, vanilla, coconut, pecans, ginger and date paste, stir til well combined.
Adjust sweetness with agave nectar if needed. Pour in to an 8″x8″ parchment lined pan (bottom only).
Spread evenly and sprinkle with coconut and goji berries, gently pressing the goji so that it will stay put. Chill until firm.
Using a sharp knife cut into bite size pieces or bars. Keep chilled for optimal firmness.
This is an excellent dessert to pass around throughout the holiday festivities or wrap up as a delicious present!
Original recipe and photo courtesy of Alkaline Sisters alkalinesisters.com/raw-chocolate-holiday-fudge-wcoconut-gogi-ginger/3215/.
Cacao Energy Balls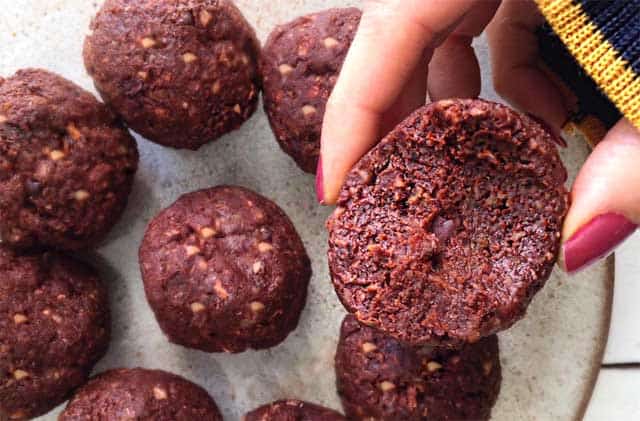 The Yummy Plant Cacao Date Energy Balls Delicious, healthy and energizing treat that\'s easy to make. Create these Healthy Energy Snacks made with Cacao Elixir
INGREDIENTS
15 dates
1/2 cup ground almonds
1/2 cup ground walnuts
1/2 tbsp almond or cacao butter
5 tbsp Cacao Elixir superfood powder
Pinch of salt
1/4 cup cacao nibs optional
INSTRUCTIONS
Blend all the ingredients except the cacao nibs in a food processor. Don\'t over process. Make sure the nuts are processed enough but still visible.
Mix in the cacao nibs. Roll into balls.
Freeze for an hour before serving.
Blast off!
Store in the fridge for up to a week or in the freezer for up to 3 months.
Recipe by The Yummy Plant theyummyplant.com