Cacao is everywhere here! We arrive in Quito, Ecuador at midnight to find Chocolate waiting for us in our room.  Much of the Ecuadorian chocolate, European and, of course, Medicinal-Foods Superfood Chocolate is made from "Cacao Arriba", known for its fine flavor  and aroma, or "fino de aroma".
I brought along a few of our own Medicinal-Foods Chocolate Bars and place them next to their "Arriba" friends, and snap this Instagram:
What does Arriba Cacao mean? As the story goes, at the beginning of the last century, a Swiss traveller, headed  by boat up the Guayas river when they witness another boat travelling down carrying Cacao Beans.
He was intoxicated by the aroma of the beans and inquired  where the Cacao had come from, the people on the boat replied, "Rio Arriba!", meaning, "From up the River!" So that's how the name of Ecuadorian "Arriba Cacao" came to be.
Jeffery Stern, a chocolatier based in Quito with major cacao connections here in Ecuador later told me, "Ecuador produces 65% of the world's "fine flavor" cacao.  Of total world cacao production of around 3 million tons, only 5-10% of that is fine flavor,   most of which comes from Ecuador, Venezuela, the Caribbean and Central America. "  Besides making chocolate for some local shops we visited, Jeff has a unique dried cacao pod business: The Cocoa Pod Shop
Sky and Heirloom 8-year old Cacao
Our Heirloom Cacao Trees, grown at Hua Lani Sanctuary (Fruitful Heaven), our tropical fruit tree farm in Hawaii, produce a lot of fruit and is very similar in taste and aroma to the Arriba Cacao we use in our chocolate. Later I am to learn a more accurate description of the type of cacao I working with is,  "Criollo" Cacao - meaning, simply,  "local".
However we don't grow enough for serious production.  Until then, we are in Ecuador, direct-sourcing our Cacao . . .
These large cacao pods are grown at Hua Lani Sanctuary from a tree I planted. They are unripe and will turn yellow-orange when ready.
Now I have one thing on my mind... venturing out into the city of Quito to find some "Mate de Coca", or "Coca-Leaf Tea". I write this as my family sleeps off the 10, 000ft. altitude adjustment.  We just flew in from sea-level Hawaii and the Coca Tea should help!  Altitude sickness wreaks havoc on some people.
Ahhh... Mate De Coca!
I'm actually feeling pretty good right now having popped a few Mega-Hydrate before, during and after my flight as I awake this morning without feeling any of the effects of jet-lag.
The locals pride themselves on their locally sourced cacao.  Rather than middlemen taking the profit, the Kallari Tribe work together to make and bring these chocolate bars to market.  After meeting the Kallari, later on in the Amazon, I'm to find out they really have this chocolate business down, working with local farmers and producing quality chocolate that is being distributed widely in the US. In fact they win the chocolate festival I'm about to go to.
We visit the Museum of the famous artist, Guayasimin and see more sights of Quito, before travelling north:
Now we travel by bus to Ibarra in search of the Chachimbira hot springs, a less touristy soak in the volcanic springs.  I make our way using my terrible spanish, "Cliente Aqua?"
The Northern Andes rise majestically before us, making foothills out of the once giant 10, 000ft. mountains surrounding Quito.  Then, unbelievably, these massive mountains are dwarfed yet again by volcanic megaliths that thrust upward into the heavens, making people looke like moles on a hill.
We pass Chocolate de Chile shops along the way.  I want to stop and sip some cacao but the diesel bus pushes on...
Everyone seems to have their own corn plot, ripening in the equatorial sun.
The corn, finished,   contrasts all the incomplete buildings with rebar sticking out the tops of what may be a roof someday.
We make our way up to Chachimbira Hotsprings, but they are closed.  Driving the bus a little further to the Santa Agua Springs, every structure is inticately sculpted an painted.  Star loves the dragon water slide . . .
We are on to the Amazon from here, keeping our rental car and driving over the newly improved route from the Andes to Tena.  The woman we rented the car from is nice enough to take us to the Quito airport to exchange our little rental car for something that we can drive to southern ecuador in.
We stop for Chocolate de Caliente and "Biscoches"... There are tons of these small shops everywhere, selling the same little salty biscuits and hot chocolate. . .  they are pretty tasty!
Once again I glance at my phone and those auspicious numbers star back at me, somehow telling we are on track...
Now we are in the Amazon!  We stay at Hakuma Matata, a beautiful Hosteria just before Tena.   The next day we meet with Kallari and talk chocolate.  They are able to get us some nice Fino De Aroma at a good price.  Our guide, Octovio, takes us to a local market then straight to the Amazon forest:
We arrive at the Kitchwa village late in the afternoon, welcomed into their ceremonial hut that appears to double as an art studio.  There is a sense of urgency as dark clouds loom over the Amazon jungle in the distance and we make our way out to the riverbank for a gold panning demonstration.
The elder woman gestures towards the dark ominous clouds and says something
in Ketchwa.  Octovio translates, "Storm coming... looks like a big one."  She pick an eroded spot by the wall of the riverbank, squats down and says something else.  It appears that due to the recent floods there is an abundance of gold to be found on the riverbanks.
She throws the sand with powerful, determined strokes, quickly filling the bowl, walks it over to the water, panning out the sand and mud to reveal . . . Gold!
Swiftly, we walk back to the village as the rain begins to fall and the thunder roars in the background.  Next we are welcomed with Chicha, the fermented brew traditionally made by chewing and spitting out corn or yucca. The elder woman explains that they now use grated sweet potato juice as a liquid, rather than spit now so as not to spread any potential mouth diseases.  She gives us a demonstration of how they make it.  We are excited as we have been looking for Chicha since we got to Ecuador... but it's not something you find at the local bar.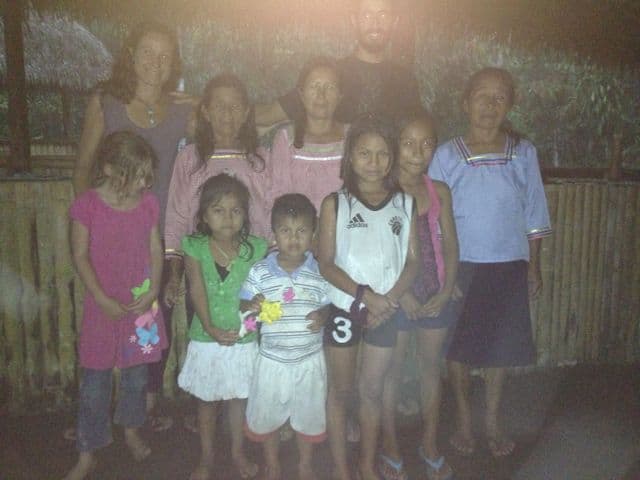 As we drink round after round of Chicha, the women make pottery all out of locally sourced materials:  clay from the riverbank, paint from seed and brush from the "Hair of a Woman" and glaze from the copal resin harvested from trees in the jungle.  The elder woman laughs and smiles at us.  Octavio explains, "She is so happy that you are receiving so much of the Chicha!  Many people who visit don't.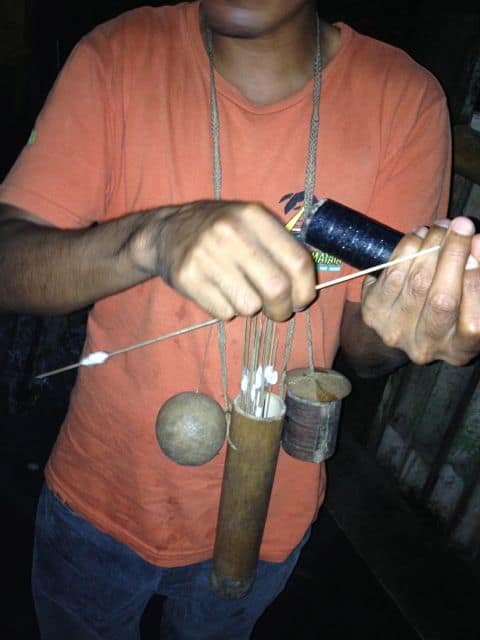 Next we are shown the art of the poison dart blowgun and we each shoot for accuracy on a wooden parrot:
After a horseback ride through the Amazon we get ready to get chocolatey!
It just so happens that the next day is the biggest chocolate festival in Ecuador of the year and everyone will be there.  Guess we are just in time:
As we explore the area around Hakuna Matata, we begin to realize just how many butterflies are around!
More from the Cacao Festival:
It was a long drive to Macas.  The farms we visited were interplanted with Yucca (Cassava, or Tapioca), Platinos (bannana) and even Sacha Inchi and Hibiscus.
The government funds the operation on a very limited level.  However they do a great job educating why inter-palanting and organic is the way to go,   instead of moncropping with petro-chemical feritilizers.