Customer Rated Best Tasting, Highest Quality Superfoods
Satisfaction Guaranteed
If your are not completely satisfied with your purchase, simply contact us within 14 days for a full replacement or refund.
Digest It All – Enzymes Supplement
Supports digestive health and may enhance nutrient uptake
May help to alleviate indigestion and bloating
Supports the efficient breakdown & utilization of proteins, carbohydrates, & fats
Includes Makzyme Pro Enzyme Blend that increases gut absorption
Supports digestive and immune health via decreased irritable bowl symptoms
May decrease pathogenic bacteria and reduce histamines and gut inflammation
Powerful Digestive Enzyme. "The key to prevention is healthy digestion." It's actually an old Chinese proverb. And we all know an ounce of prevention is worth a pound of cure.
Bad food-combining such as starches and proteins or sugars with starches or proteins results in fermentation (gas and bloating) and putrefaction (smelly gas and rotting).
We all cheat and it's great to have a strong enzyme on hand to help with digestion.
But did you know that the last thing enzymes do is digest food? Experience "Enzyme Therapy". Taken by themselves, on an empty stomach, enzymes provide a whole host of metabolic functions to help clean, heal and regenerate the body- improving the immune defense system, and waste-removal from the bloodstream.
Vegan
Gluten-Free
Non-GMO
Fair-Trade
100% Radiation Free
No Fillers
No Additives
All Natural
Sugar Free
NSF Certified Product
Lactose Free
Solvent Free
Soy-Free
Full Description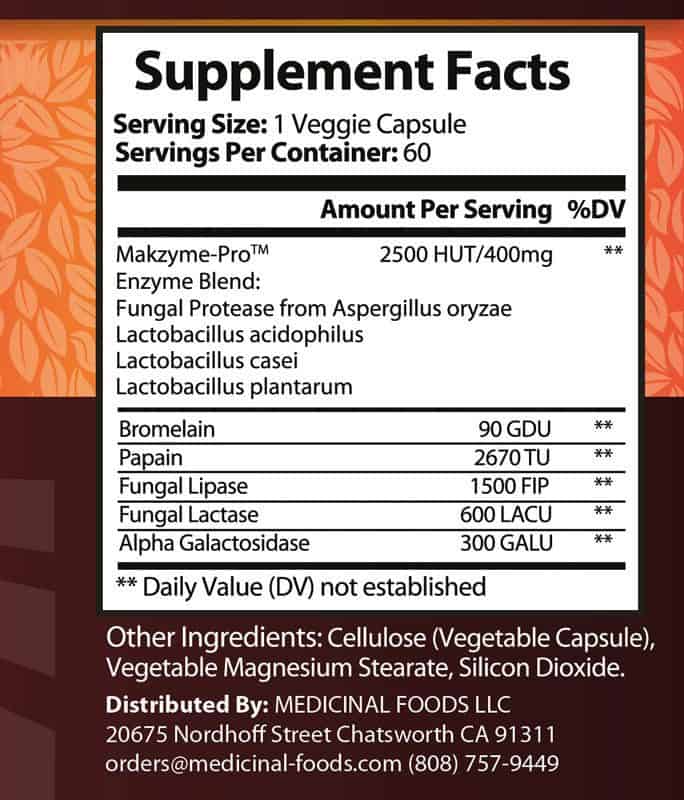 Directions / Suggested Use
Suggested Use:  As a dietary supplement, take one (1) veggie capsules twice a day. For best results take 20-30 minutes before a meal with an 8 oz glass of water, or as directed by your health care professional.
Serving Info
Serving size: 1 Capsule
Servings per container: 60
About Makzyme Pro Enzyme Blend
Supports digestion of protein and nutrient absorption of amino acids (300).

Supports athletic performance, enhanced gut microbiome, increased muscle mass, immune health, reduced cortisol levels, digestive health, cognitive function, and improved allergy symptoms

Supports 70% of gut-immunological axis (gut immune system) via enhanced mucosal immune response (toll-like receptors), and upregulation of genetic markers associated with macrophage (gut-immune cell) activity

Supports digestive and immune health via decreased irritable bowl symptoms, suppression of helicobacter pylori growth (pathogenic bacteria), reduced histamine (reduced allergic response), and reduced gut inflammation

Supports athletic performance via reduction of respiratory tract infections, reduced muscle damage, improved body composition, reduction lactate induced exercise (muscle burn), and body composition

Supports gut-brain axis via increased neural, endocrine (hormonal), and anti-inflammatory modulation of the hypothalamic-pituitary-adrenal (HPA) axis 

Reduces inflammation via activation of Toll-like receptors (TLRs) and downregulates the expression of nuclear factor (NF)-κB and pro-inflammatory cytokines (inflammation markers)
Although many thousands of people have benefited from our products and traditional healers have used the ingredients in our products for millennia, we are required to inform you that: Statements regarding the health benefits of this product have not been evaluated by the Food and Drug Administration. This product is not intended to diagnose, treat, cure or prevent any disease. If you are pregnant, nursing, taking medication, or have a medical condition, consult your physician before using this product.
Our customers also recommend