The macadamia nut tree is native to northern Australia and is a prominent commercial tree in Hawaii.
The macadamia tree can also be found in Africa, Asia, and Latin America, as well as in the United States, or to be more precise, Florida and California, and Hawaii where our business is based.
The shells are frequently burnt at extremely high temperatures to produce activated carbon, which is used in applications like water filtration.
They may be pulverized to make fertilizer for the wood, or they can be used in place of fertilizer.
They are also used in barbecue pits because burning shells do not add unpleasant flavours to food.
They are sometimes used to create plywood shapes that are particularly resistant to moisture, preventing them from warping.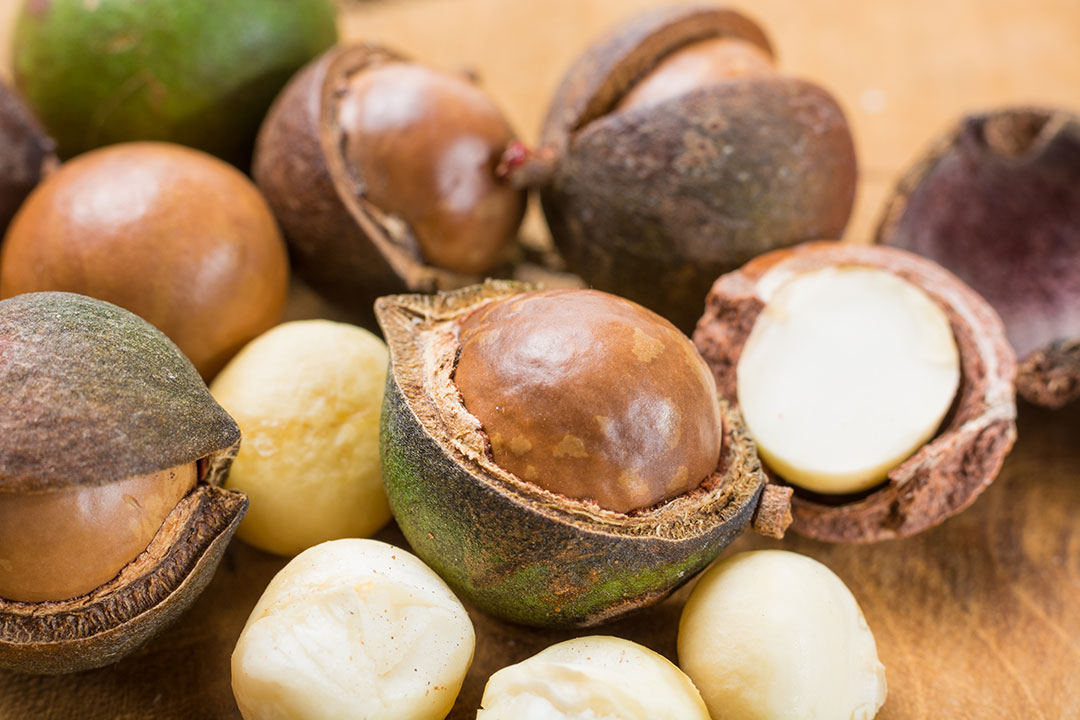 And of course, they make excellent biofuels. Other names that can be used for macadamia nuts are Queensland nuts, Hawaiian nuts, Maroochy nuts.
Planting macadamia nuts is relatively simple. But it will take them years to grow and develop before they make delicious treats, so here's how to take care of them as they develop and beyond!
Macadamia seeds should be planted indoors during late autumn to early winter. As the spring weather warms up, new seedlings can gradually harden at outdoor temperatures, but care should be taken not to expose them to the cold as they are sensitive when young.
Similarly, young seedlings can be planted during the spring, but after the last chance of frost has passed. Older trees can tolerate a little cold and excess heat, but young ones are at risk of frost damage or leaf burns.
Choose a location that receives sun all year round, but which is protected from strong winds. Although mature macadamia can be very effective protection from the wind, its flowers are at risk of damage from strong winds.
Most macadamia integrifolia trees will come in pots when they are purchased, and all plants will also be in pots. The tree should be carefully removed from the pot, while making sure the roots are not circling. If they are, the root mass should be gently opened with your fingers.
It is suggested to plant the trees at the same depth as they were planted in the container becuase planting them deeper than they used to be can cause the carcass to rot. Your tree will grow in place for a while longer, so you want to make sure it stays healthy.
Plants that are placed in containers should have a large enough container to handle the roots. Reopen the roots by hand and examine the size, then select a container that matches the size of your tree at that time. You may need to put it back in the future to give it more space.
Macadamia can produce thousands of flowers during the flowering period. Huge amounts of time and effort are not required when growing macadamia tree, but what should be done is annual maintenance. Ensuring the continued health of your tree is crucial.
Full sun conditions are ideal for your tree. Partial shade can work even while the tree has a good amount of morning sun.
Even though the ideal temperature for the growth of this plant is between 65-85 degrees, it still can tolerate the temperatures that are above or below that.
Temperatures that constantly exceed 95 degrees can reduce your harvest of macadamia nuts because the tree can become stressed. Fortified trees planted in the ground can cope better with hot climates because the roots go deeper, but container plants don't have that option, so keep container-grown trees hydrated.
The most exposed trees are the ones that are under the age of 3 and it is suggested for them to be completely placed in bags while taking care of keeping the bag away from the leaves using stakes as additional support for the bag should be a must.
Younger trees require more water than mature ones because they grow at a much faster rate.
Soils that contain a lot of natural salts can also negatively affect tree growth.
What the trees will also appreciate is mulching because it helps to prevent moisture loss. Mulching can greatly help in this as well as to prevent competitive weeds. 
Before ripening, the outer carcass will split to reveal a walnut-covered shell inside.
Apply fertilizer early in the spring when new growth begins, and then again in mid-summer. Do not top-up in the fall or winter months.
Prune the tree regularly by removing unhealthy or dead branches and those that grow inward. This pruning will help airflow, prevent root rot, keep the tree at the desired height and give your tree a nice shape.
Pruning can be done at any time, but the best time is in May or June after harvest.
Are macadamia nuts tree nuts?
The Proteaceae family includes the macadamia tree. Despite its modest growth, the tree will continue to bear fruit for many years.
It has oblong leaves with blunt tips and prickly, jagged edges that are rich, deep green shades. These leaves grow in clusters of three to six, although they seldom grow alone.
The flowers bloom on long spikes called clusters, which have between one hundred and fifty flowers on them when they bloom. During a flowering season, the typical tree produces roughly 2,500 blossoms.
Trees need seven to ten years before they start producing the nuts. The tree will grow to a height between 7-40 feet. Although those used in commercial cultivation are usually kept short for easier harvesting.
Its nuts grow inside a hard, spherical woody shell. This shell is roughly five times harder to crush than hazelnuts and has a wide range of uses.
The macadamia tree in its optimal habitat, subtropical, humid climate, can reach a height of up to 15 meters. This perennial evergreen sclerophyllous tree lives for over 50 years, and only with time does it begin to bear fruit.
Harvesting walnuts pays off only seven years after planting, and 15 years after planting the yield increases to a profitable 50 kilograms of unpeeled nuts per tree in one year. Nuts are harvested from April to September.
Popular macadamia nuts are among the so-called stone fruit. Hanging on a tree in long clusters resembling clusters of vines. The extremely hard brown shell envelops a round edible nut whose diameter is two to three centimetres.
This brown shell is wrapped with an additional thick protective layer of green, similar to "ordinary" walnuts. Ripe walnuts fall from the tree on their own. At the same time, there are white hanging inflorescences, ripening fruits and ripe fruits on the macadamia tree which are typical features of tropical trees.
Is macadamia a tree nut?
During flowering, macadamia racemes can have dozens of flowers per stem.
Three types of macadamia trees produce edible nuts. These are Macadamia ternifolia, Macadamia integrifolia and Macadamia tetraphylla.
A fourth species of macadamia, Macadamia jansenii, is also found in the wild in Australia. However, its nuts are poisonous and therefore not usually grown.
Beaumont is a hybrid variety of Macadamia integrifolia and Macadamia tetraphylla. It has bright pink flowers that appear on long flowers with vibrant, reddish leaves. This variety also has grape-like grapes that may eventually break off the twigs.
Macadamia nuts do not fall when ripe, but this variety gives nuts that are easier to crack.
Maroochy
Maroochy is a pure variety of M.tetraphylla, which is produced due to its rich taste, healthy crop yield and easy pollination of 'Beaumont'.
Renown
Renown is a hybrid variety of Macadamia integrifolia and Macadamia tetraphylla. As a widespread macadamia tree, it brings the highest yields. Nuts, however, do not have much flavour and are very thick shells.
Nelmac II
Originally from South Africa, Nelmac II is a hybrid variety of Macadamia integrifolia and Macadamia tetraphylla. This one tastes sweeter. Many people like to enjoy uncooked seeds because of their sweetness. It is known for pollinating 'Beaumont' and yields delicious nuts.
It owes its origins to Australia. There was its historical homeland. The natives considered this plant sacred. They called him Kindal Kindal, Boomer and Mullumbimby. The Australian botanist Von Mueller gave this nut the name Macadamia after his friend the chemist, Macadam.
The area of distribution of macadamia is very narrow. The tree can grow only in warm tropical climates. In addition to the homeland of Australia, it is grown in several other countries with suitable conditions: Brazil, Hawaii, Mexico, China and the United States.
The main importer of macadamia is Hawaii, which is known for its volcanic soil. In second place is Australia. In Russia, macadamia nuts are grown only in heated greenhouses or conservatories, because they die even up to + 3 ° C during cold cracking.
Under these conditions, the plant looks more like a bush than a tree and rarely bears fruit.