Customer Rated Best Tasting, Highest Quality Superfoods
Satisfaction Guaranteed
If your are not completely satisfied with your purchase, simply contact us within 14 days for a full replacement or refund.
Anti-Itch Cream
Pretty mind-blowing how well and fast this stuff works!
Powerful anti-itch cream with all natural Chinese herbs
Works on eczema, psoriasis, acne, bites, microbial infections and more
See results within just a few days
Keep on hand for minor irritations or use to combat chronic skin conditions
Ultimate product for your skin and body care
Anti-Itch Cream is healing and may help stop itching and skin irritations fast.
May help reduce eczema, acne, tinea manus, chronic dermatitis, psoriasis, body tinea, skin peeling, blisters, chaffed feet, foot itch, pruritus vulvae, hemorrhoids, prickly heat, itchy skin, or mosquito bites.
Wild-Crafted
pH Balanced
No BPA
No synthetic colors
No harsh preservatives
No harmful sulfates
No parabens
No phthalates
Full Description
Ingredients: Sophora flavescens, Stemona japonica,Cnidium, borneol, menthol, chlorhexidine acetate
Naturally promotes healing
Fast absorbing and non-greasy
Safe for Children
Perfect for dry/damaged skin
pH Balanced
No BPA
No parabens
No harsh preservatives
No synthetic colors
No phthalates
No harmful sulfates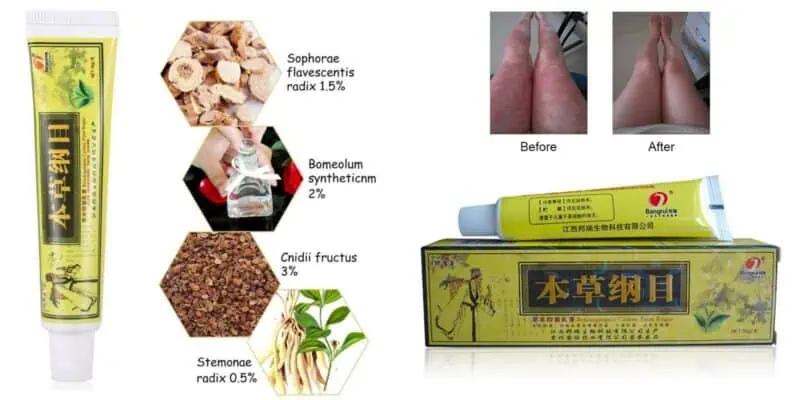 Although many thousands of people have benefited from our products and traditional healers have used the ingredients in our products for millennia, we are required to inform you that: Statements regarding the health benefits of this product have not been evaluated by the Food and Drug Administration. This product is not intended to diagnose, treat, cure or prevent any disease. If you are pregnant, nursing, taking medication, or have a medical condition, consult your physician before using this product.
Our customers also recommend