Welcome to the Lifestyles of the Raw and Chocolatey! 
Now my chocolatey friend, we get to the recipe section! Keep in mind my goal is to help people transition to a healthier diet. The Spirit of Cacao stands at the doorway, inviting everyone in.
Click on the link to see some of the recipes that will be included in the final book.
Click here to read CHAPTER 6: Breakfast Menu
Breakfast Menu Choices:
Raw Chocolate Chia Pudding
Good Old Banana Kale Smoothie
Kefir Breakfast Gruel
Chocolate Chia Buckwheat Pancakes
Also, inside, find out what is considered the #5 Best Superfood of All Time!
It will definitely surprise you!
Discover the Kefir Breakfast Gruel that our Daughter, Star, at age 4, asked for every day!
What if you could get your kids begging you for these yummy superfoods?  The truth is, when presented with piled of junk food vs. healthy superfood, the kids Super it up, every time!
You know if they want it, then it probably tastes good to you as well.
Now Available:
Gourmet Raw Hawaiian Superfood Chocolate Covered Macadamia Nuts!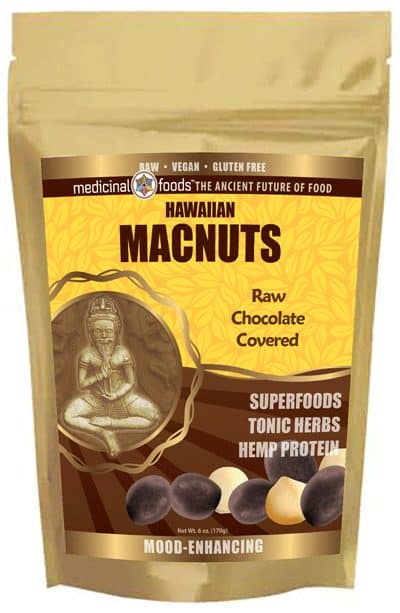 Wow, what a Mouthful... They certainly are! And they contain the same Shaman's Blend that is in the Cacao Elixir and other Chocolate Products. Experience Some Chocolate Covered Macnuts Today. I hope you are enjoying reading The Raw Chocolate Diet and having as much fun as I am Living the Raw Chocolate Lifestyle!
Thanks again for being part of the Medicinal Foods Tribe! Feel free say Aloha or shoot us a testimonial on one of these community links below.
In Radiant Health,
Sky Kubby,
CEO and Head Chocolatier
Visit our website: medicinal-foods.com
 
For daily Inspiration, please join our GROWING COMMUNITY Below!
Let us know what you think of The Raw Chocolate Diet.  ALOHA!Copyright © *|2014|* *|Medicinal Foods, LLC|*, All rights reserved.