A healthy, anti-inflammatory, fermented soda with Ginger, Turmeric, Lemon, and probiotics that you can make at home!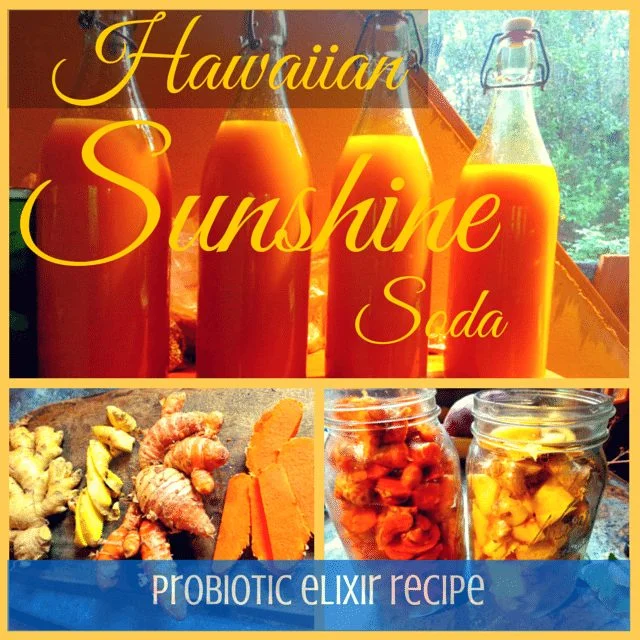 Hawaiian Sunshine Probiotic Soda
This probiotic drink recipe is so tasty… and medicinal.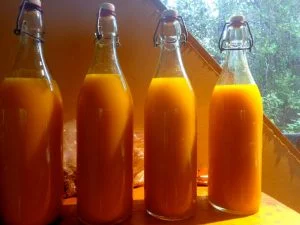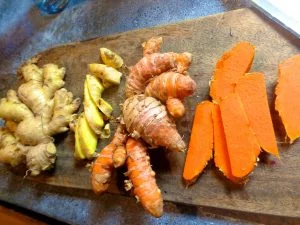 Get ready for a taste of Aloha that will blow your mind… and tastebuds!
This medicinal beverage is powerful! As you will see by the simplicity and potency of the ingredients, this elixir stands out!
Using Four Simple Ingredients:
Makes 1 gallon of Hawaiian Sunshine Soda
1/2 Pint Ginger
1/2 Pint Olena (Turmeric)
1/2 Pint Honey
1/4 Pint Lemon
Chop Ginger and Olena and place into Vitamix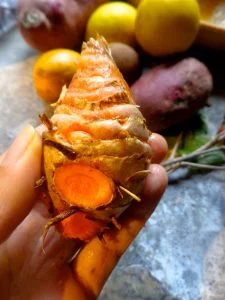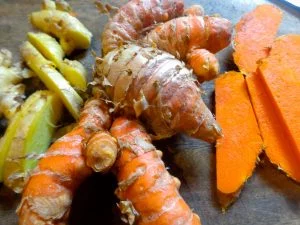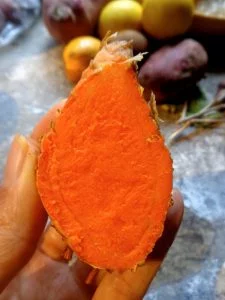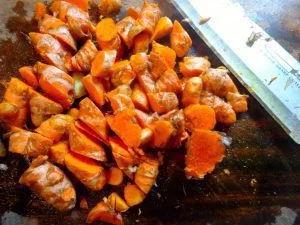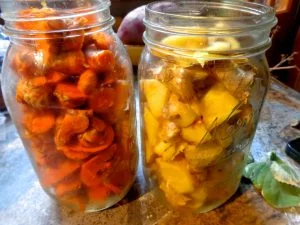 Blending Technique:
Blend in two separate batches
Add water to equal 1 gallon total
Add 1/2 pint of honey, splitting between blender runs
Wait until after fermentation to add 1/2 Pint of Lemon Juice as it can inhibit the culture of the ginger probiotics.
The lemon is optional but will keep the brew from going ballistic in the fridge. It is rare, but one exploded in in a friends refrigerator so beware. Strain Blended mixture.
Pour through a funnel into jars.
Store in a warm place and let ferment for a few days…
I store above my stove so that the temperature can enhance the fermentation. Within a few days bubbles should begin to appear. Be careful burping the mixture as the ginger probiotics are powerful and this mixture can quickly become explosive.
Be sure to store in the refrigerator before explosive phase has occurred. Storing in the refrigerator will slow down the fermentation process.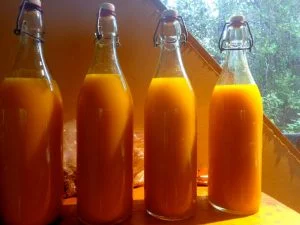 Hawaiian Turmeric Sunshine Juice fermenting above the stove. Finished 1 gallon brew in 4 quart-sized jars.
Turn gently, if desired, however not disturbing may help with fermentation.
Warning!!! Once fermented, Burp SLOWLY, a little at a time, or you will have a big orange mess everywhere.
This recipe was shared with me by a dear friend. I suggest you do the same.
*Note that if left in the fridge for longer periods, this elixir can become quite potent… and slightly alcoholic. We refer to this substance as, Rocket Fuel.
Looking for more great recipes? Try these great drink ideas:
Living Greens Probiotics Wellness Blend with Turmeric
Blend: 1 cup organic orange juice 1/3 cup organic lemon juice 2 Tbsp
Living Greens Probiotic Superfood Powder
1 dropper of Organic Liquid Turmeric6 drops or
Oregano Oil 1 tsp fresh organic ginger