Cacao vs Cocoa, is there a difference?
A common misunderstanding is that they are the same things. Although they both come from the same tree, they end up being very distinct things. They go through several processes, which have an impact on their nutritional value.
Any chocolate connoisseur who is particular about what they buy has most likely come across a variety of chocolates incorporating either component. To a layman, they may appear to be the same compound, but they are not. It is particularly popular in health food stores, but it is more or less ubiquitous as chocolate chips and it's powder.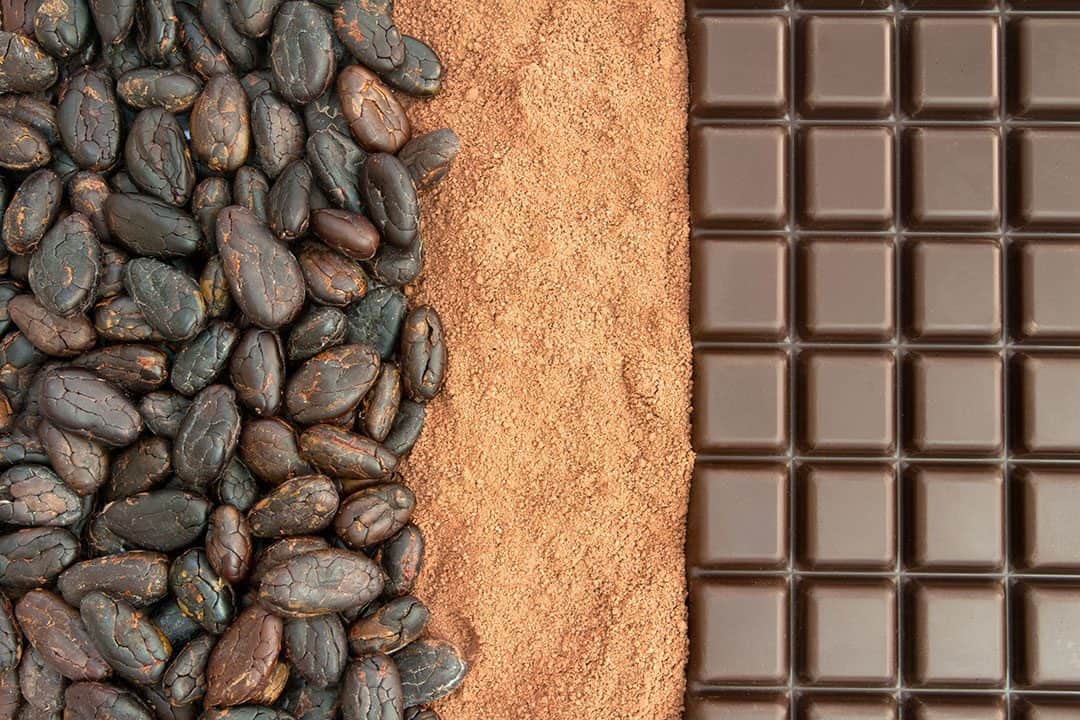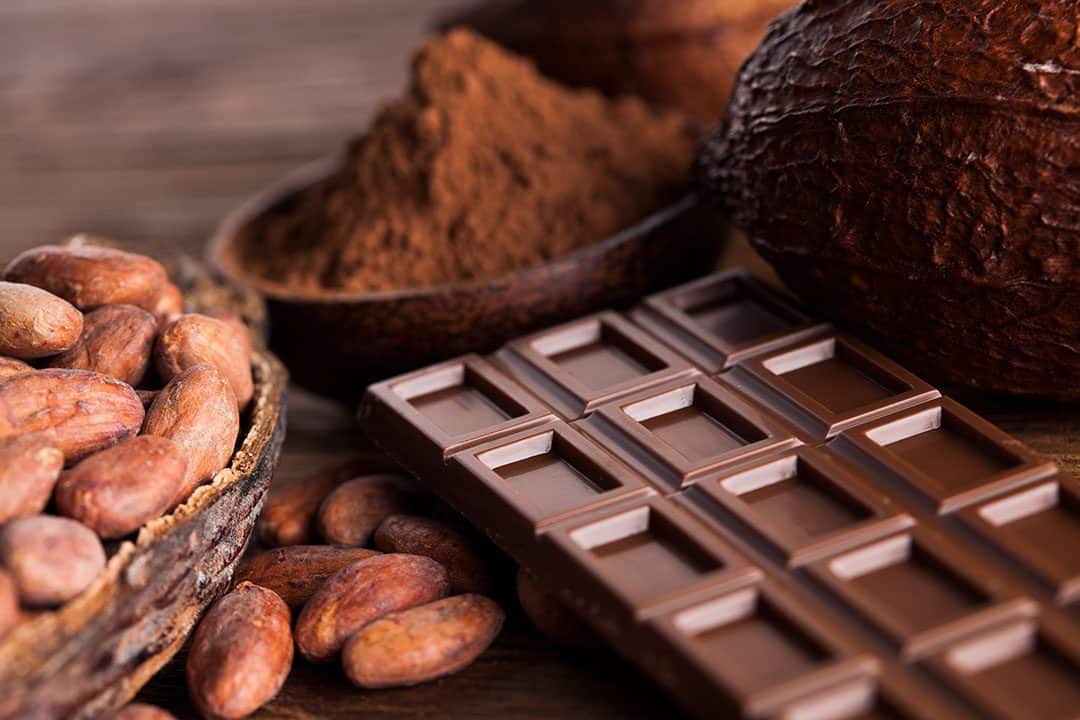 So, what's the difference between the two? Is it just a marketing ploy, or does it account for much? Continue reading to learn more.
Difference between cocoa and cacao
Yes, they both contribute delectable chocolate flavors to delicious cuisine, but they can be utilized in different ways, have different tasting notes, and are priced differently. How so?
Starting with the fundamentals, chocolate in all its forms comes from the the plant, scientifically known as the Theobroma Cacao Tree. It was discovered about 2000 years ago in Central America's tropical rainforests and was named that which means "meal of the gods".
Just like coffee beans, the tree produces these beans that are moist and covered in sweet, slimy fruit flesh when they are young. These are harvested in pods and are bitter, just like coffee. They could also be eaten raw but processing them makes them more palatable.
After harvesting the ripe pods, they are opened to remove the beans and dried. The way these beans are processed affects the result and the quality of the powder made. Knowing the difference can easily make one a chocolate master.
What Exactly Are They?
It is chocolate at its purest — direct from the bean, unroasted and unprocessed. The products are available in a variety of forms, including chips/nibs, powders, and pastes, and none of them contain any added sugar or milk.
It has a more bitter flavor than processed version or chocolate due to its raw state, and it is thought to have far more nutritional content than the sweeter alternatives.
The same substance that has been roasted to improve its taste. Yes, all forms of processed cocoa or chocolate are manufactured simply by roasting the beans at extremely high temperatures. After harvesting, the beans are then dried, fermented, and roasted at high temperatures, sweetening their flavor.
But it's not simply the cooking method that sets them apart. To make it sweeter, most store-bought chocolate contains additional sugar and milk. Dutch-processed, often known as dark chocolate, is even treated with an alkaline solution to make it less acidic and flavorful. So what sets them apart?
Cacao powder vs cocoa powder
Four Distinct Differences
1. Preparation
So, what's the difference between the two? The answer is in the heat. Both products come from the same beans that are picked, fermented for a few days to develop flavor, and then dried. The next phase in the process is high-temperature roasting. The latter is not roasted because it is raw.
As such, any reference to "beans" implies that the product has undergone this high-heat treatment. The fats—or butter—from the beans are separated from the dry solids, which are then processed into a powder. The butter is a crucial ingredient in confectionery, particularly white chocolate, and is responsible for the rich, fatty mouthfeel of chocolate bars.
The powder, on the other hand, is derived from fermented, unroasted beans. They're ground into a powder after being processed at low temperatures. The bean products are minimally processed implying that they are more natural.
2. Nutritional Value
99% of all beans are roasted to make the product. When roasted, the beans diminish in their nutritional value from iron to magnesium to enzymes and even antioxidant flavonoids.
Cacao vs Cocoa are very similar yet distinctly different, as we look closer into what makes them similar in a deep dive in their content.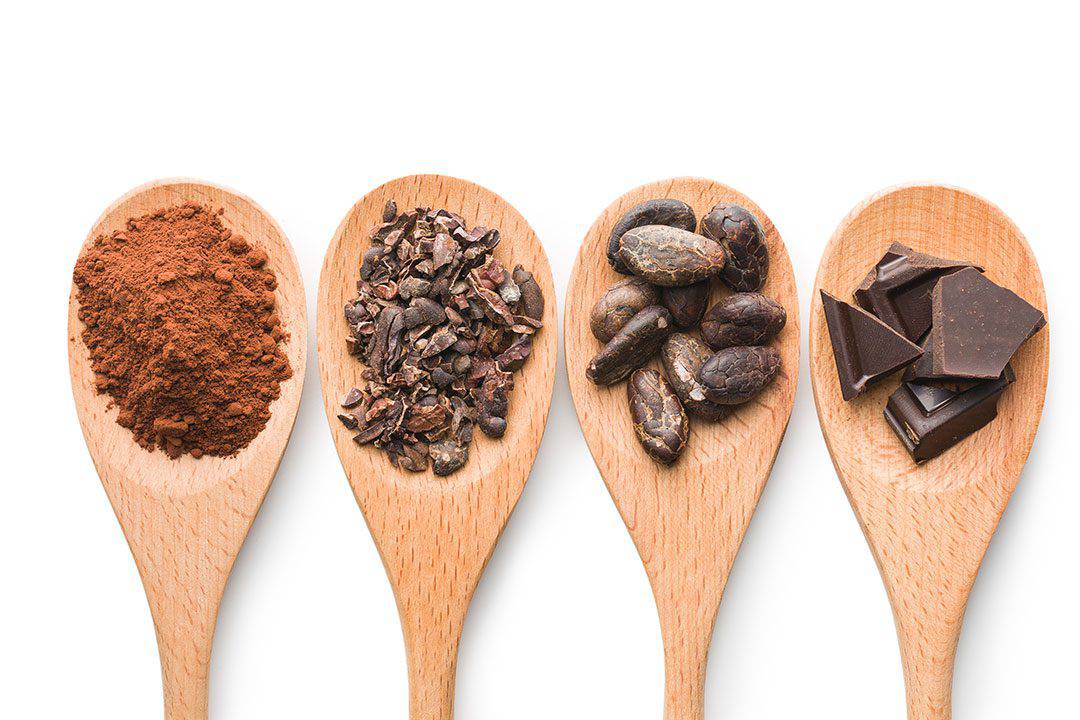 Pure coco powder contains 1311mg Potassium, 429 mg Magnesium, and 11.9mg Iron. Raw cacao contains 136% more Potassium, 149% more Magnesium, and 126% more Iron. It is also higher in many minerals, enzymes, and antioxidants.
Chocolate cakes and brownies are frequently made with the powder. however, it is becoming increasingly popular as people move toward more natural and vegan diets.
3. Taste/ Additives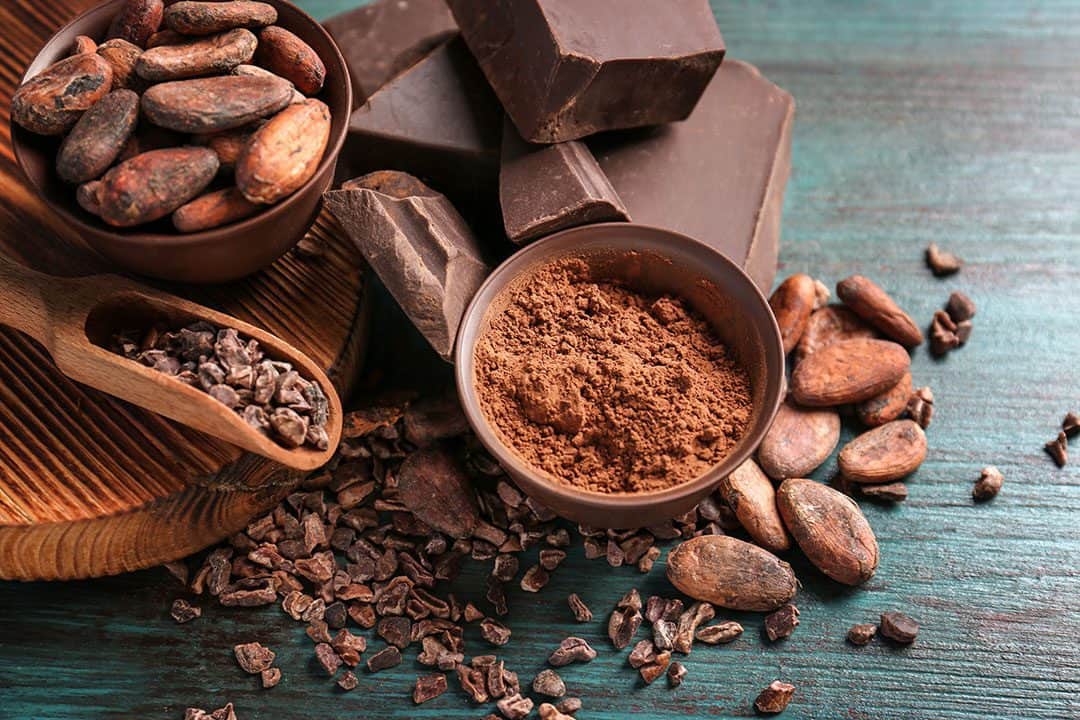 The main difference between the 2 compounds is that one is prepared at a considerably greater temperature. However, this results in a different taste between the 2. The beans are fermented after harvest to create flavor and texture, making their powder have a bitter flavor.
On the other hand, the powder is formed from fermented and roasted beans before being processed at a much higher temperature. As a result, the powder is less bitter, slightly darker, and has lost some nutritious value.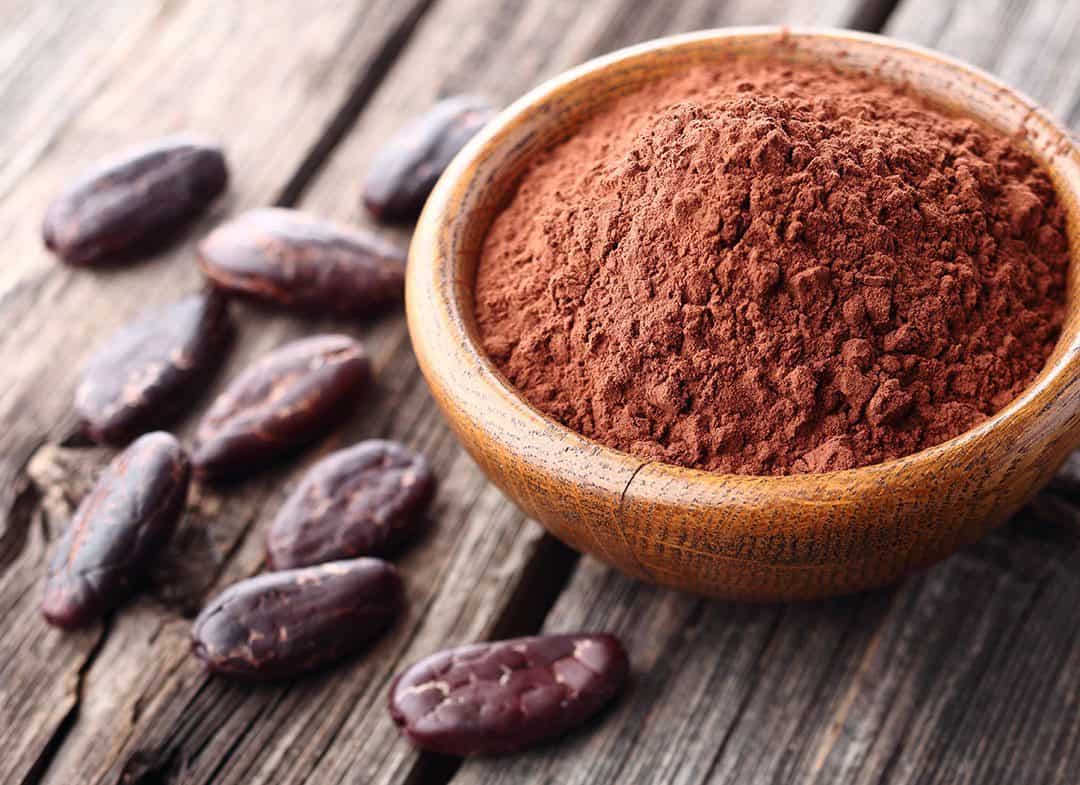 It is also typically treated with an alkali solution to make it less acidic and homogeneous in flavor, a process known as dutching. Natural powder is ordinary coco powder that has not been dutch processed and has a more bitter flavor. Moreover, packaged product contains added sugar and dairy.
4. Color
The first is darker than the latter. After dutching, alkalizing cocoa gives it a deeper color, a softer flavor, and makes it easier to dissolve in liquids.

Are They Interchangeable?
Yes. The two substances are interchangeable unless a person is concerned about aspects such as nutritional worth. They can be utilized to create healthy chocolate recipes that aren't overly refined.
Which One Is Better?
The first is depleted of nutrients after processing. Nevertheless, it contains a large quantity of nourishment and is significantly less expensive than the latter which has a large number of flavonoids and is one of the highest sources of antioxidants in foods.
Unfortunately, most chocolate contains less than 22% of the substance with the remainder typically consisting of refined sugar, harmful fats, flavorings, preservatives, and colorings. In light of this, the small amount does not balance out all of the bad elements.
As such, aim to purchase chocolates with a very high content (80 percent or higher cocoa solids) or simply opt for raw cacao to reap the health benefits of chocolate!