A vegan hot chocolate recipe you want to bookmark!
Hot cocoa is the ultimate wintertime favorite drink. Real melted cocoa, rather than cocoa powder, give it a distinct flavor and texture.
On the other hand, cocoa isn't something that can be made from a combination.
Because the original version is prepared with dairy milk, vegans cannot enjoy it, so we set out to create a version that is safe for everyone, regardless of their milk preferences.
All of our products are vegan!
It was a simple matter of substituting non-dairy milk for the liquid in hot cocoa to make it vegan.
You can easily double or split this recipe for the delicious hot drink, and the stovetop method is preferred.
Additionally, it can be prepared in a microwave oven. Adding cocoa powder, chocolate chips, a bit of salt, and sugar after heating non-dairy milk is all that is required.
The drink for two is ready once the chips have melted and the mixture has reached the correct steaming temperature.
For variety, try adding a few drops of peppermint extract or a few shakes of cinnamon to the mix.
With only basic ingredients, it's really simple to prepare and absolutely tasty.
When it comes to making this delectable drink, you may already have all the ingredients you need on hand for any occasion.
Making your own hot cup at home not only saves you money but also gives you complete control over the ingredients.
Hot Chocolate Vegan Recipe
2 cups unsweetened non-dairy milk

1/4 cup vegan semisweet chips

1 tbsp cacao powder

1 tbsp sugar

1/2 teaspoon pure vanilla extract

1/4 teaspoon table salt
Step by Step Instructions
Perhaps you're wondering why you'd want to make this delicious drink from scratch; after all, couldn't you just buy a pre-made powder, mix it with hot water, add some soy milk, and voila?
Indeed, you can. However, it will be nowhere near as good as this!
This recipe uses melted vegan chocolate, cocoa powder, and non-dairy milk and then adds a touch of brown sugar for added sweetness.
It is, in essence, a step up from pure cocoa. Essentially, you're sipping liquid cocoa, and that is how delicious it tastes:
Gather the ingredients.

In a small saucepan over medium heat, heat the non-dairy milk until very hot but not boiling, about 2 minutes.

Reduce to low heat. Mix the chips, cocoa powder, sugar, vanilla, and salt in a medium mixing bowl. Stir the mixture for an additional 2 minutes or until it is completely melted.

Take the pan from the heat and stir until the mixture is smooth and foamy.

Pour the hot drink into two mugs and serve right away.
Vegans can consume the majority of semisweet cocoa chips. You'll want to look for anything that suggests dairy, such as whey or milk solids, on the label.
Any non-dairy milk will work if you're pressed for time and want to utilize what you have on hand.
The texture of Whole Foods unsweetened almond milk is preferable since it is less watery than other non-dairy kinds of milk.
Vegan Powdered Hot Chocolate Recipe
The cocoa: Starbucks uses Dutch cocoa, which has a more moderate and chocolatey flavor than unsweetened cocoa powder. It's still delectable with ordinary cocoa, just not quite as much like the one from Starbucks.

The milk: A blend of coconut and almond milk is the best.

If you're not looking for a low-fat recipe, coconut milk would be the best option because the increased fat makes the recipe ultra-creamy. If you're sensitive to coconut, you can substitute cashew cream or whisk in 1-2 tbsp raw cashew butter.

The heat and swirling of the pot will break down most of the cocoa powder. You can use an immersion blender, food processor, or blender to make it smooth if yours has any lumps. This also adds a lot of foam to the final drink, making it even more enjoyable.

You do not need a plant-based cocoa mix to make an easy and delectable sugar-free hot drink that will quickly become your favorite. The right cocoa powder imparts an incredible chocolaty flavor to your non-dairy recipe as if it were made with melted cocoa. Furthermore, it must not be excessively sweet or taste bitter.

Other ingredients: Use pure vanilla extract, not imitation. The amount of sweetness you use will vary depending on whether you use sweetened or unsweetened milk, as well as your particular taste preferences and the sweetener you choose.

If you are allergic to nuts, you can substitute nut-free milk, and seed butter, such as Sunflower seed butter is ideal. Simply ensure that you use unsweetened milk, as the drink is sweetened.

If you want the drink to be even more chocolatey, substitute dark (70 percent or more) for some of the cocoa powder and melt it in the saucepan.

Additionally, do not forget the pinch of salt! It may seem insignificant, but omitting it completely alters the flavor of the drink.
Why This Recipe Is a Resounding Success
This recipe is simple to create and rich and creamy because of the use of both cocoa powder and chips.

By reducing the amount of sugar used, the drink's flavor is given center stage.

By adding favorite toppings such as whipped cream, vegan marshmallows, or even cinnamon sticks this beverage becomes visually appealing.
Prepare in Advance
This delicious drink can also be prepared in advance, then reheated later.
If you like, you can sip it cold as well. The hot chocolate can either be heated in the microwave or on the stove.
To reheat the drink, place it in a small saucepan and warm it over medium heat.
In order to thin out a thickening hot drink, simply add a little extra vegan milk. Add the same amount of milk you used to produce the cocoa powder.
Storage
The delicious hot drink can be stored in a refrigerator for up to three days.
In case you have too many leftovers and don't feel like drinking them every day, you can prepare Popsicles out of them.
Even in the midst of winter, you may find yourself a craving ice cream.
Delicious Flavors
Peppermint: Add 1/8 teaspoon of pure peppermint extract to your hot drink when you add the vanilla flavoring. Peppermint schnapps might also be a nice addition.

Mocha Hot Cocoa: Use half a teaspoon of ordinary or decaffeinated instant coffee rather than made espresso.

Orange Hot Cocoa: Add 1 teaspoon orange zest and 1 tablespoon orange juice.

Peanut Butter Hot Cocoa: Before heating the drink, stir in a tablespoon or two of peanut butter (or almond butter or cashew butter).

Nutella Hot Cocoa: Add a tablespoon of your favorite plant-based chocolate hazelnut spread.

Gingerbread Hot Cocoa: Sweeten with blackstrap or ordinary molasses and season with cinnamon, ginger, nutmeg, and cloves.
If you're going to prepare this hot delicious drink at home, you can experiment with different amounts of cocoa powder and natural sweeteners to see what works best for you.
If you like a refreshing mint flavor, you may also add some peppermint extract. If you enjoy Starbucks' hot cup, you should definitely try this hot drink.
Bottom Line
This is a delectable plant-based drink.
This wonderful warming drink requires only five ingredients and takes less than ten minutes to prepare.
It's really quick to prepare and has no refined sugar. With this nutritious hot drink, you'll get the sensation of sipping dessert, as it's so creamy, delectable, chocolaty, and delightfully sweet.
Not only do kids enjoy a cup of almond milk hot cocoa, but this lactose-free winter beverage is also always nice after a brisk winter walk.
This vegan hot chocolate recipe is more than simply a quick fix. Here, you find step-by-step instructions for making this sugar-free vegan delicious drink, as well as extra advice.
CACAO ELIXIR™ Cacao Powder Raw, Vegan, Superfood Blend
A superfood blend to HELP you on your path to wellness!

This energetic combination can be used instead of or added to coffee to create an iced or hot mocha.

This morning dose of superfoods can provide you with sustained energy for the remainder of the day!

Our antioxidant-rich hot cocoa mix has 400% more antioxidants than roasted cacao.

Our combination is nutrient-dense and contains adaptogenic herbs.

As it helps suppress your appetite, a cup a day can aid in weight loss.

Combines forming a delicious chia seed pudding ideal as a meal replacement or light colon cleanser.

A must-have cacao powder combination for fine-food lovers and aficionados seeking the finest level of sustenance.

Our antioxidant-rich mix has 400% more antioxidants than roasted cacao.

Cacao includes a higher concentration of phenolic antioxidants than other foods; flavonoids such as catechin, epicatechin, and procyanidins have the most antioxidant activity.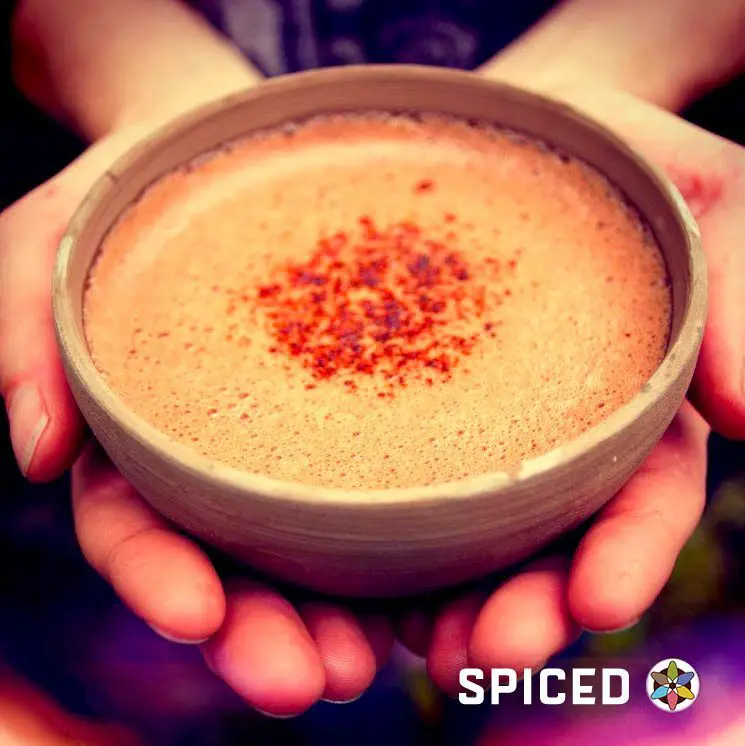 My Recipe for Spiced Hot Cocoa-Coffee-Tea!
By IG @white_waveyoga2024
Spice up mornings with a healthy, organic, pick-me-up? This recipe really mixes it up with a unique blend of savory flavors. Your tastebuds will love it, and the whole body too when it's flowing with goodness and wellness.
A generously heaping amount of CacaoElixir
A nice amount of CoffeeBreak
An intuitive amount of Organic Corriander
A good whiff's worth of Organic Cinnamon
A delicate amount of Organic Cayenne
An essence of Organic Smokey Paparika
Add hot water 2/3rds the way
Slow 4 count of Organic Maple Syrup
And I top off with favorite non-dairy milk! I use unsweetened #Milkadamia milk???
Also as a bonus, your can try Brain Boosting, Keto-friendly SmartCream
Superfood Elixir Recipe:
Time to spruce up your Elixir Bar! Enjoy these Hydrating Elixirs and Superfood Smoothies in your own home.
Many of these creations begin with simple tea bases outlined in This Chapter.
Start your morning off right with warm liquids!
Below is a link to my chapter on Delicious Nutrient Dense Smoothies and elixirs that you can make from home.
These smoothies and elixirs are incredibly healthy super foods that increase energy, metabolism and help cleanse your body of toxins.
Included Elixir Recipes: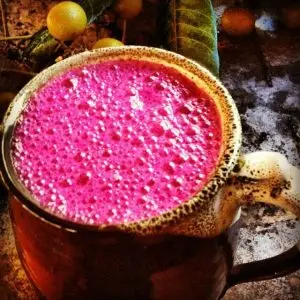 Tasty and nutritious smoothie.
Tea Bases
Make Your Own Nut and Seed Milk
Berry-Hemp Cream Shake
Probiotic Kefir
Dran-Gan Frappé
Create Your Own List
Jenn's Famous FRAWstie
Reishi Maca-chino
Maca – Blueberry Shazam!