Recipe for gluten free sourdough pancakes made with Teff flour, water and sourdough starter. These are the only ingredients in these delicious pancakes. No butter, oil, sugar, baking soda or baking powder needed!
So these can be vegan and completely lactose free as well, no milk needed.
If you're like me, you're tired of the gluten-free "fart-full" pancake mixes that have a ton of ingredients, like pea, potato, rice and garbanzo bean flour.
Teff is an ancient grain, the smallest of all grains and is mostly germ and bran. It is grown en masse in Oregon. So if you live in Oregon, you're lucky!
This is the same sourdough bread used in Ethiopian restaurants to scoop up their yummy dipping sauces!
Teff flour pancakes
Preperation:
Order Teff Flour from our friends at Thrive Market or ask your local health food store to carry some. 

Purchase a sourdough starter or get one from a friend.
Mix the flour and water and starter (you don't need much) until the batter is smooth.
Let sit in a warm place overnight for 1-2 days and it should begin to bubble and ferment.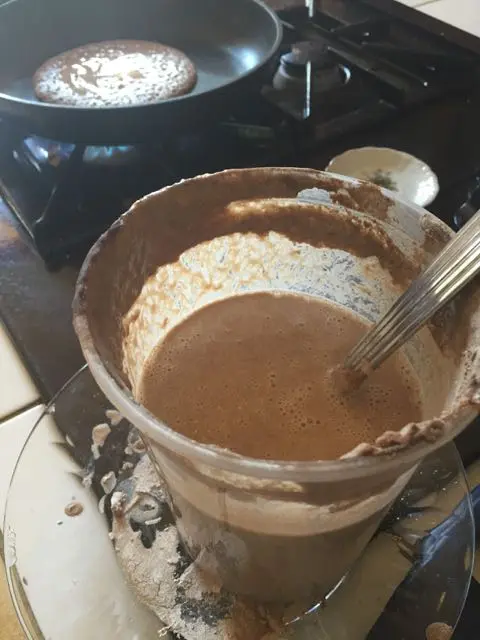 Hints: Use warm water, but not hot. Err on the liquid side and your pancakes will be light and fluffy.
You may have to ad water the next day as some may have evaporated.  It may settle so stir before pouring. Also dont fill all the way over or it could overflow when it bubbles up.
Use a plate underneath the yogurt contain – or whatever vessel you chose to catch over-flow that usually occurs from the fermentation process.
Cooking with Teff sourdough starter
Cooking Directions:
Use a good non-stick pan. Turn on med-high heat and wait 5 minutes for the pan to get really hot. THis is key to fluffy pancakes and why many people throw away the first pancake- because the pan isn't hot enough!
Pour in the batter to the size of the cake you want and shake the pan back and forth, side to side to make the pancake flatter (more fluffy).
You'll see the bubbles start to form and the surface become dry.  Now it's time to flip.
Note: No butter or oil is needed if the pan has a non-stick surface.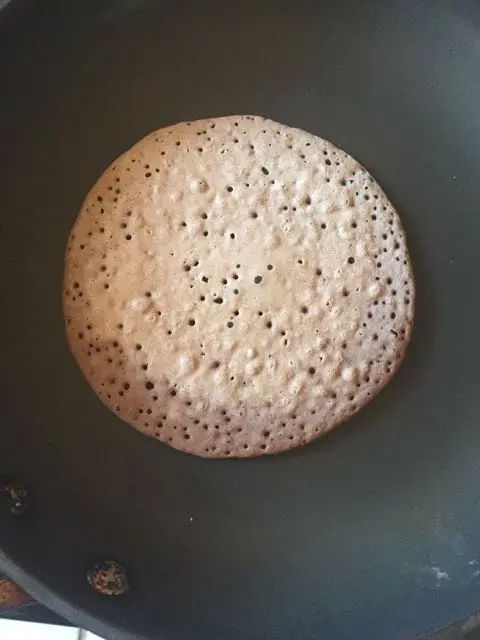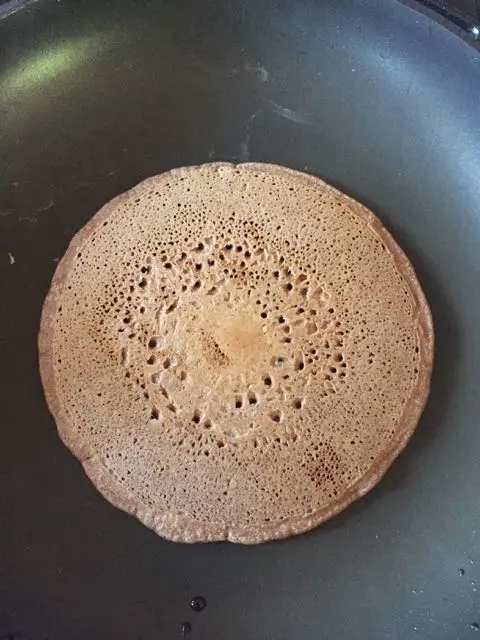 Voilá! Nice fluffy Teff flour sourdough pancakes!
Go sweet with butter/ghee and maple syrup or savory with humus, veggies, sauces and make your own creative wrap!
Perfect to use as chapati to scoop up this delicious Ayurvedic Kitchari recipe here.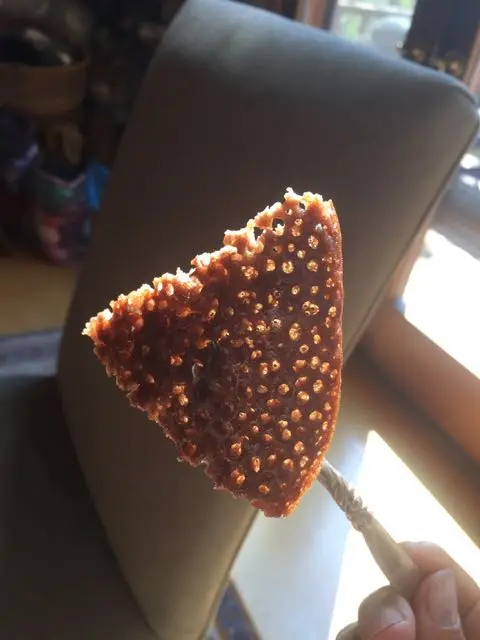 Enjoy your Gluten Free Sourdough Pancakes!